Shibuya is one of Tokyo's most vibrant, bustling, and energized districts. A shopping mecca for locals and tourists alike, it has plenty to offer in terms of entertainment from karaoke bars, and traditional Izakaya restaurants to the thrilling game centers packed with enthusiastic gamers! Whether you're looking for a day out or an evening party destination – Shibuya can promise something fun all year round.
If you don't know where to start on your journey through this amazing city – we've put together some great ideas right here so that you won't miss any of the best attractions along the way: Keep reading our guide on 'The Best Things To Do In Shibuya' and be prepared explore what lies behind every corner!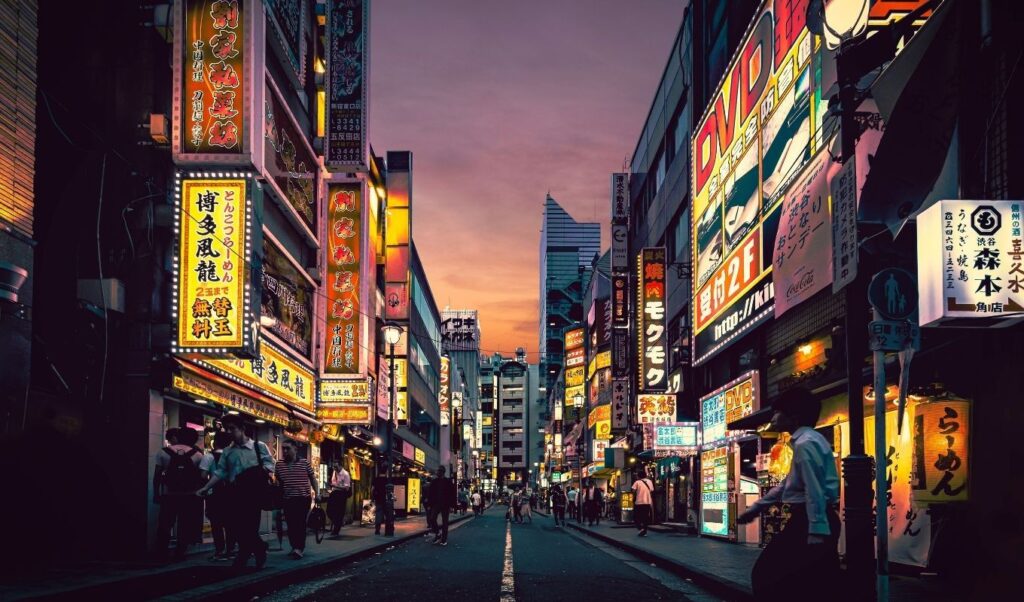 From classic tourist spots like Meiji Shrine, and Hachiko Statue & Shopping district full of exclusive brand stores; To taking part in exciting nightlife experiences such as having dinner at a cool izakaya; Grabbing late night drinks at V2 Tokyo Bar & checking out live music performances!
There truly is no shortage when it comes down to listing interesting activities available around these parts. So get ready to embark upon an epic adventure uncovering everything there Japan's famous fashion hub has got the store.
Shibuya SKY's observation deck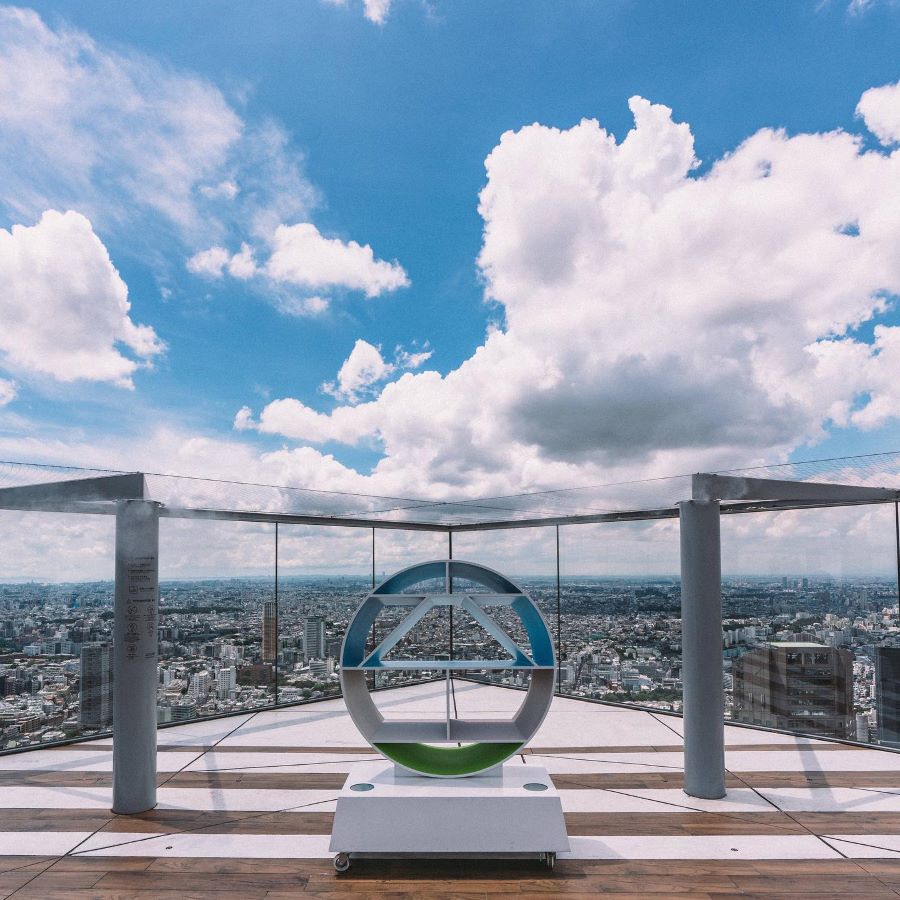 At Shibuya SKY's observation deck, you can see stunning views of Tokyo Bay and Mount Fuji on clear days as well as some incredible nighttime sights such as Tokyo Tower lit up against a dark sky or fireworks during summer festivals like Tanabata Matsuri held every July 7th near nearby Yoyogi Park.
For those interested, there are even restaurants located within Shibuya Sky including Hanabo serving sushi made fresh daily using locally sourced fish alongside specialty drinks perfect for any occasion – date night included!
Additionally, travelers may make use of public spaces such as "Sky Space" where events ranging from art exhibitions to live music shows often occur making this building truly alive no matter what time day or night one visits!
Hachikō
The iconic Hachikō Memorial Statue is a beloved reminder of one extraordinary dog's loyalty and friendship. The statue stands outside Tokyo's Shibuya train station, where it has welcomed commuters for 85 years – since its unveiling in 1934!
Every day from 1925-1935, faithful Akita Inu 'Hachi' waited at the same spot on the platform to meet his owner who worked nearby as he came home each evening. Each time they were reunited with much joy until one fateful day when his master died while away without warning…and yet still Hachi waited every night alone but never gave up hope that he would return someday; no wonder why locals fondly named him 'the devoted dog'!
Shibuya Crossing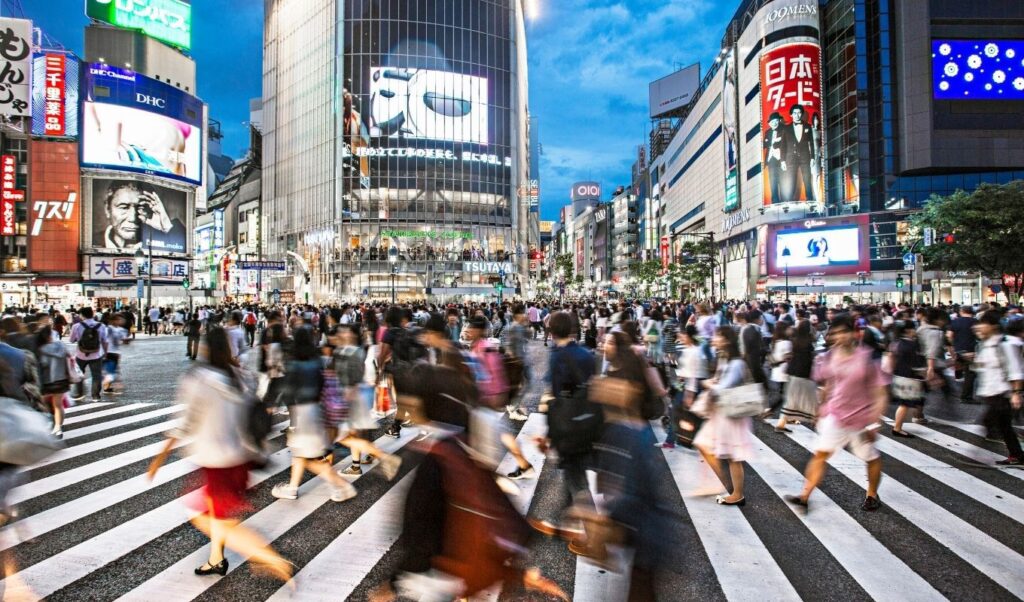 Shibuya Crossing is a bustling pedestrian scramble in the heart of Tokyo. It's one of the most iconic images associated with Japan, and it's also known as "The Scramble". Every two minutes during peak hours, all traffic lights turn red at once to let thousands of people cross every direction simultaneously.
The experience has been compared to organized chaos or being part of a river; everyone flows together seamlessly under careful guidance from police officers regulating vehicle movement around them.
It's easy for visitors to get lost amidst the crowds, but thankfully this intersection features giant video screens that can be seen from above which are used by shops and companies attempting to capture their attention.
A great place to watch pedestrians crossing below is Starbucks Coffee Shibuya Tsutaya located on the top floor overlooking the entire area – locals come here just to enjoy the view! On weekends especially when night falls, you will see flocks of halogen umbrellas making their way through street lines like stars shining brightly against the darkness – a truly unforgettable sight!
Yoyogi Park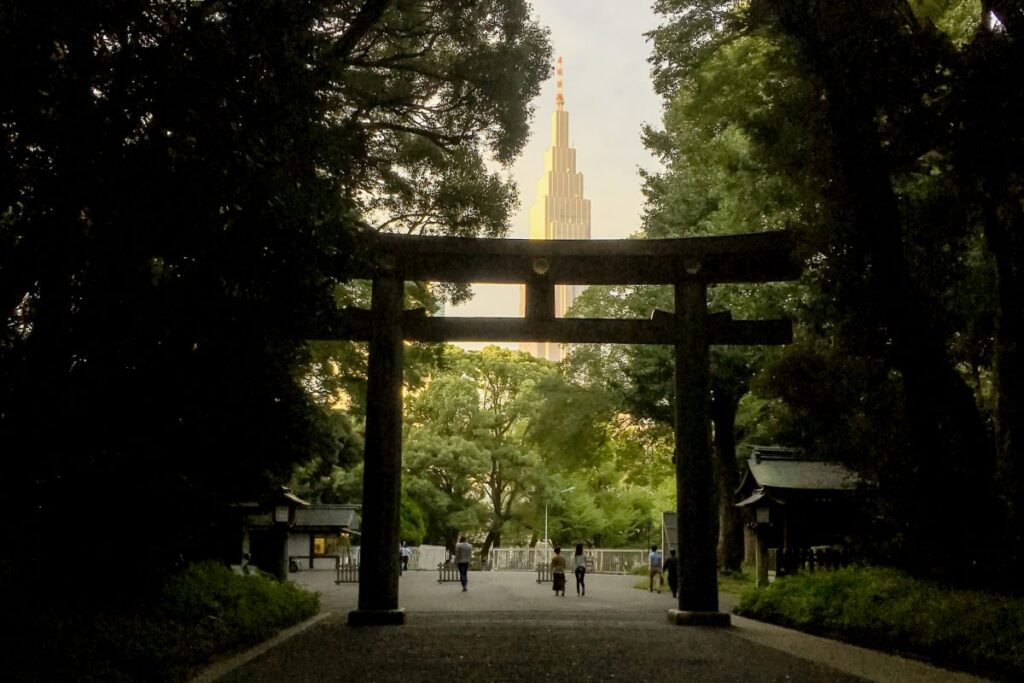 Yoyogi Park located in the vibrant city of Tokyo offers a peaceful retreat from its urban center, providing an oasis for locals and visitors alike to enjoy. The park spans over 54 hectares making it one of the largest parks in Japan offering plenty of attractions within its grounds such as; cycling tracks, BBQ areas, jogging paths, and walking trails filled with lush greenery creating a calming atmosphere perfect for relaxation or taking part in outdoor activities like Tai Chi or stretching exercises.
During cherry blossoms season Yoyogi Park holds festivals known as 'Hanami' that celebrate horticultural beauty where people come together to share food under blooming sakura trees producing spectacular pink canopies covering entire branches!
On Sundays traditional 'Matsuri' culture performances take place at this beautiful green space which is an enjoyable way to spend your day appreciating Japanese heritage blended into modern life.
Meiji Jingu
Meiji Jingu is a Shinto shrine located in central Tokyo dedicated to the deified spirits of Emperor Meiji and his consort, Empress Shoken.
It was built back in 1920 after their deaths as an expression of gratitude by citizens who admired them for strengthening Japan's economy during the late 19th century known as The Meiji Period.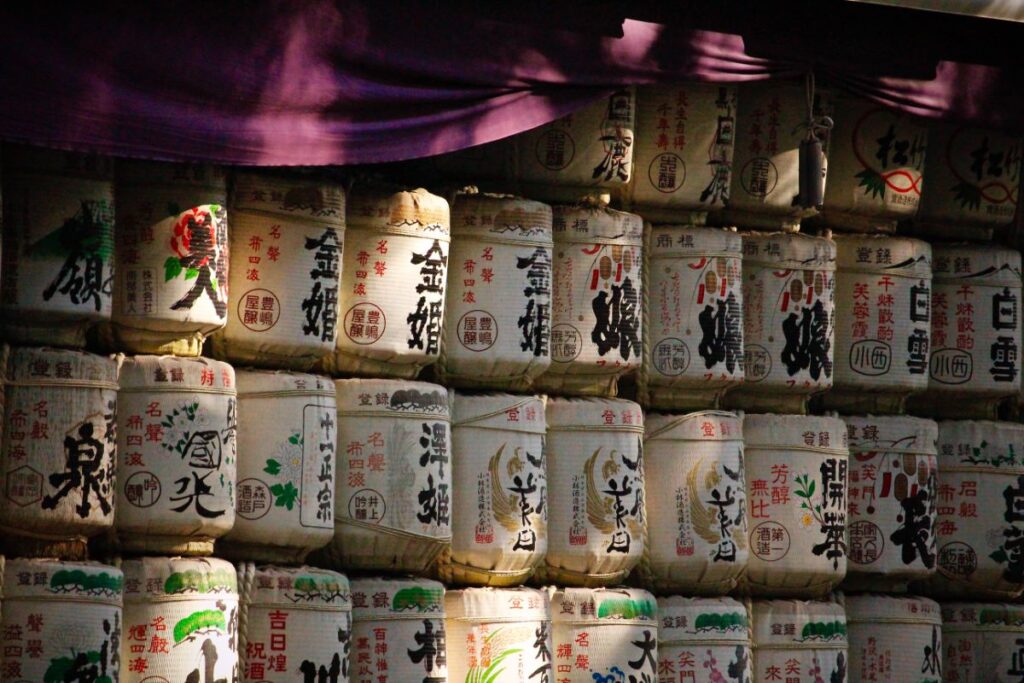 Each year on November 3rd, people attend ceremonies honoring both former imperial rulers at this sacred location surrounded by dense forests with 170,000 trees provided from all over Japan creating a peaceful atmosphere away from hustle and bustle of urban life nearby.
During major festivals such as weddings or New Year celebrations, it becomes filled with thousands gathering here seeking blessings inside its grounds where you can also find several other shrines like One Thousand Sacred Trees Shrine that comes alive especially around May 5th when many come offering prayers for good fortune while enjoying traditional activities held throughout the area making every visit unique experience!
Meiji Jingu Gaien
Meiji Jingu Gaien is a magnificent garden located in the heart of Tokyo, Japan.
This park was established to honor Emperor Meiji and Empress Shoken who formed modern-day Japan. Here you can find an array of breathtaking landscapes with fields filled with cherry trees, ponds reflecting shimmering blossoms on sunny days, expansive lawns for visitors to relax on, and pathways lined by grand torii gates.
It even boasts two outdoor stadiums; Ajinomoto Stadium hosts sports games including football matches while the National Indoor Training center offers billiards or futsal courts open all year round!
Yoyogi Hachimangu
Yoyogi Hachimangu is a famous Shinto shrine located in Tokyo. It's believed to have been established by the order of Emperor Tenmu back in 674 and its entrance gates are more than 500 years old!
This ancient shrine has seen countless festivals, events, celebrations, and rituals since then–such as Hatsumode New Year's Prayers or Setsubun Festival Spring Memorial Events where you throw roasted soybeans for good luck.
A traditional trip would include visiting Yume no Daibutsu Buddha Hall which beautiful depictions of history that only this place can tell stories about through ritual gestures like kneeling down before entering each building on the grounds. Its one-of-a-kind architecture symbolizes Japanese heritage which still stands tall today even after all these centuries!
Bunkamura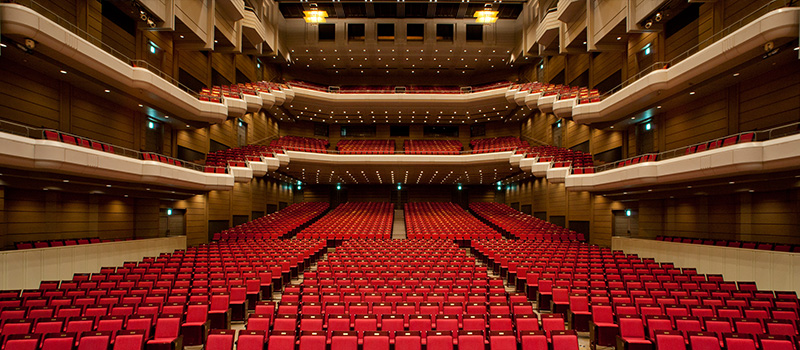 Bunkamura, Shibuya is an entertainment complex located in Tokyo. It houses a cinema, theater and concert hall as well as several restaurants and shops. The area also hosts multiple events throughout the year such as concerts by international musicians or performers from Japan's popular culture scene.
A major attraction at Bunkamura is its theatre which seats over 2200 people and consistently puts on excellent performances including both Japanese Kabuki drama plays and musicals alike!
In addition to this, you will find many stores offering unique products ranging from fashion accessories to electronic goods giving it quite a unique vibe compared to other shopping spots around town.
Spain-zaka Slope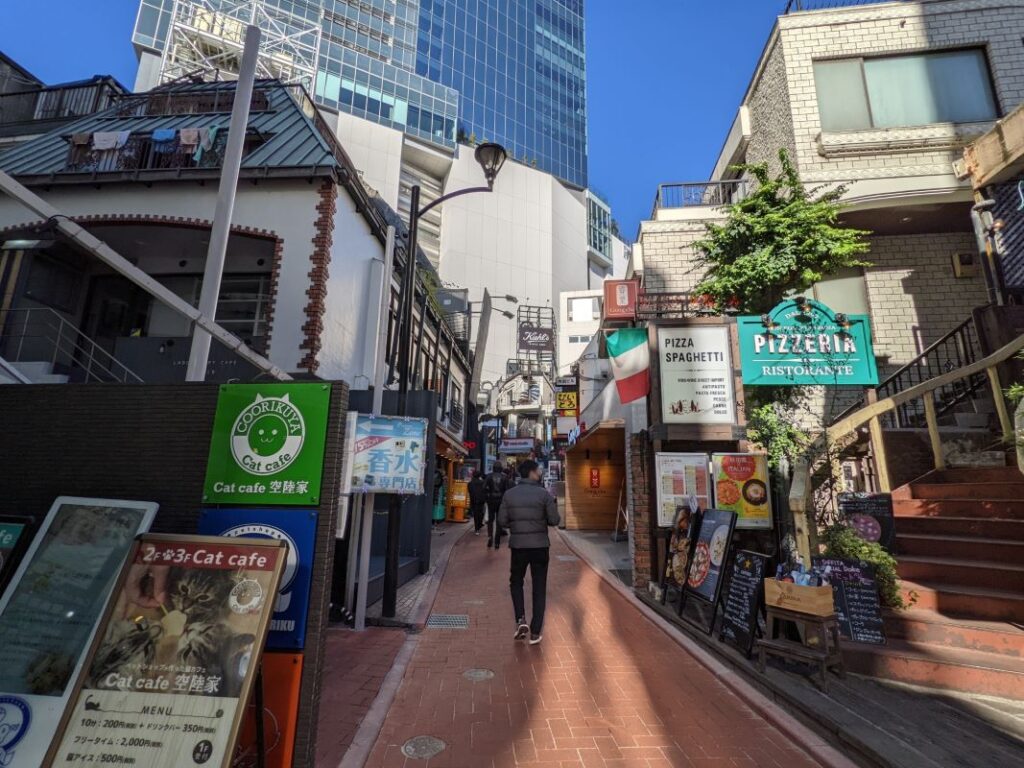 Spain-zaka Slope, Shibuya is a legendary street in Tokyo that has been popular since the Meiji period. This shopping slope filled with various stores and eateries attracts locals and tourists alike, who are attracted by its retro atmosphere as if time had started to run backward.
The long history of Spain-zaka can be found on many signs lining up along both sides of the steep stairway leading from Dogenzaka 2 Chome to Seiocho 1 Chome – each plaque displays different events that happened throughout the years such as major renovations or festivals held here.
With so much culture buried in this special place, you don't want to miss out when visiting Japan's lively capital city.
Shibuya Center-Street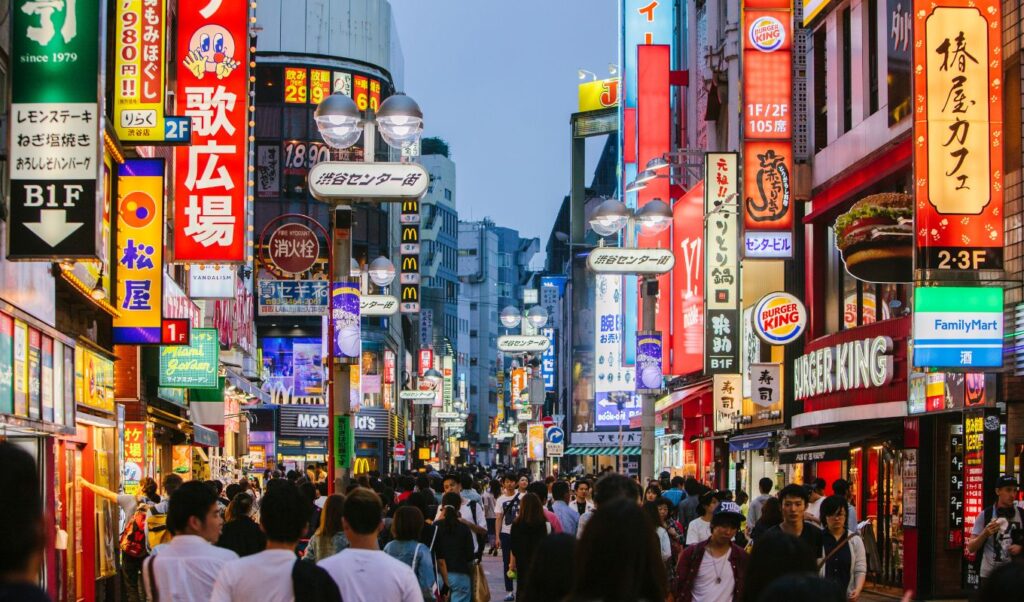 Shibuya Center Street is a famous shopping area in Tokyo. It features numerous fashion boutiques, international shops, and restaurants from around the globe. The street hosts some of Japan's most iconic stops such as Shibuya 109 Department Store and its infamous Scramble Crossing where thousands of people cross at once!
At night time it comes alive with neon lights that transform this spot into one of Tokyo's top attractions; not to be missed by tourists or locals alike looking for an exciting experience day or night!
Additionally, they host many festivals throughout the year giving visitors even more reasons to visit like Halloween Costume Parade held every October 31st when local youth dress up in impressive costumes while taking over the streets much to everyone's enjoyment making Shibuya Centre Street truly something special.
Shibuya Station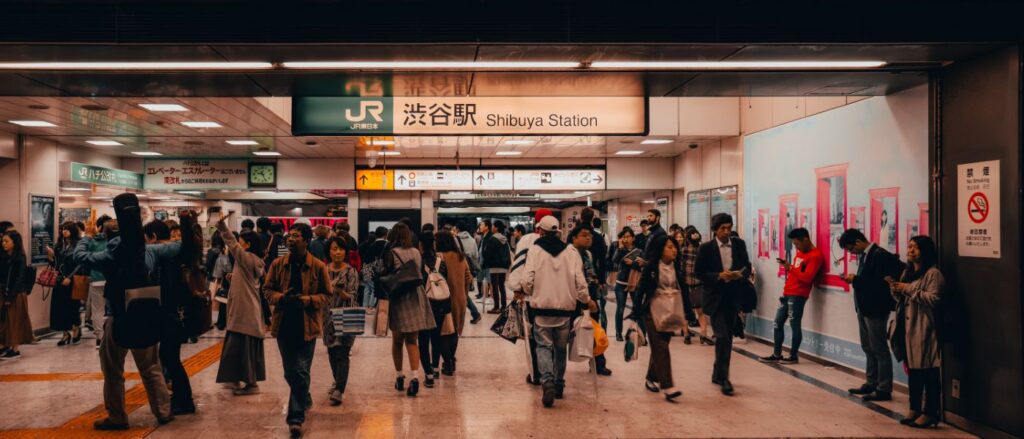 Shibuya Station is one of the busiest in Tokyo and Japan, with millions of passengers passing through it every day. It acts as a major transportation hub for commuters from all over Tokyo — including its most iconic intersection just outside where street lights guide hordes of people crossing at once making it an emblematic symbol throughout the world.
On any given night Shibuya could be seen by thousands who line up to observe "the scramble", a famous scene featured many times in movies like Lost In Translation or Aloha Scramble!
The station itself has recently undergone several renovations that included new ticket gates designed after origami paper cranes, adding extra layers to what was already described as 'an ultimate experience' when traveling within Japan's bustling capital city.
Shoto Museum of Art
The Shoto Museum of Art in Shibuya, Tokyo is a hidden gem amongst the hustle and bustle of its vibrant city. Here visitors can expect to find an eclectic mix of traditional Japanese artworks from various eras including pieces by some modern masters such as Isamu Noguchi.
A unique aspect of this museum includes its exhibitions which feature detailed models tying together culture with technology-based elements that illustrate interesting insights into human creativity–as if taken out of a futuristic world! It's also known for providing high-quality educational experiences like workshops and classes on topics ranging anything from ikebana (flower arranging) to calligraphy; all intended for anyone interested in deepening their understanding of Japan's rich history & heritage further.
Museum of Yebisu Beer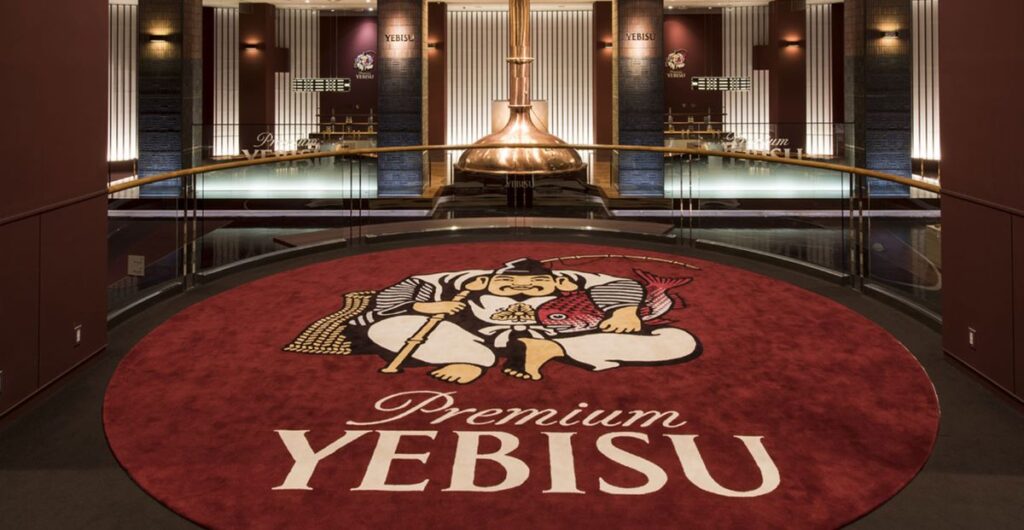 The Museum of Yebisu Beer is an enjoyable and informative educational experience. Located in Tokyo, Japan this museum offers guests a fascinating look at the history of beer-making from prehistory to modern times. Here visitors can learn about yeast culture, and how raw materials are prepared for brewing as well as taste various kinds of traditional Japanese beers while enjoying interactive displays that focus on the cultural heritage associated with them.
Furthermore, they also have many video presentations and exhibits which explain every process involved in beer production – right up to bottling it! All these activities make learning fun and provide people who visit here with comprehensive knowledge regarding one of Japan's most beloved beverages!
Shibuya 109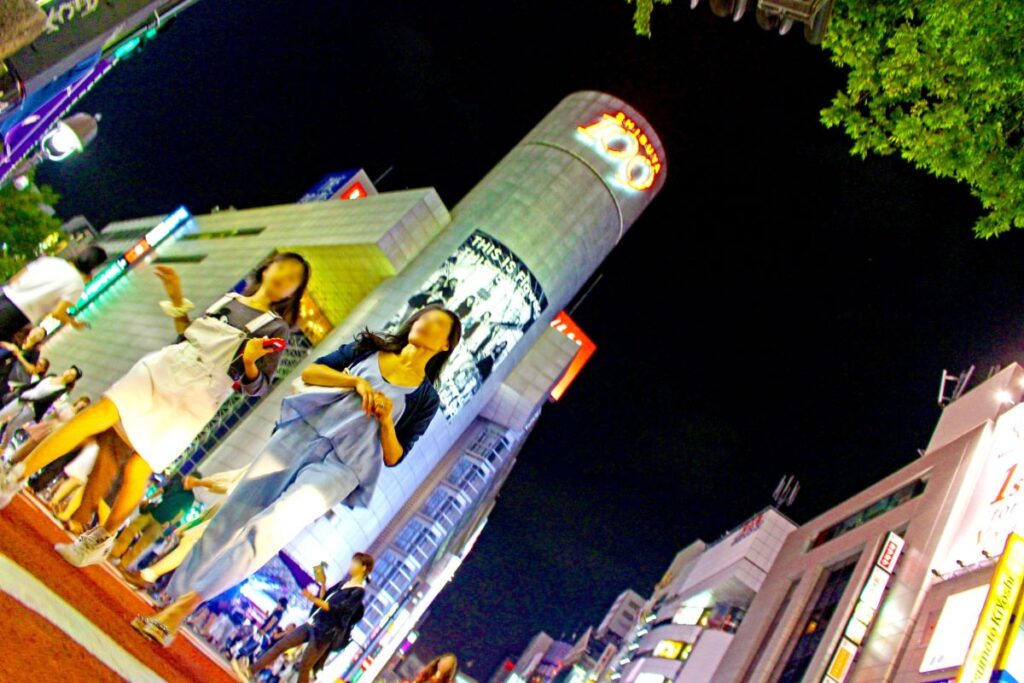 Shibuya 109 is an iconic shopping center located in the heart of Tokyo's Shibuya ward. It has been a popular destination for both tourists and locals since its opening in 1979. The building consists of nine floors, each one dedicated to different fashion styles such as casual wear, streetwear, kawaii style, and more!
Shoppers can find almost anything they're looking for at Shibuya 109 – from trendy clothes and accessories designed by Japanese labels like WEGO or Spinns to cute souvenirs like Hello Kitty plushies or keychains shaped like sushi rolls. There are also plenty of beauty services available on-site ranging from nail salons to eyebrow waxing bars. If you need a break while browsing around the shops there's even an open terrace offering beautiful views over the Shinjuku skyline!
The experience doesn't stop when you leave either; visitors often line up outside just before store openings so they can get their hands on limited items sold exclusively at 109 stores throughout Japan only until supplies last! With its unique atmosphere it definitely worth checking out if you ever visited the Tokyo area – who knows what amazing finds await…
Konno Hachimangu Shrine
Konno Hachimangu Shrine in Shibuya is an ancient and spiritual place that locals consider to be a power spot. It was founded over 360 years ago, during the Edo period. The shrine stands out as one of Tokyo's oldest landmarks because it has withstood many fires and earthquakes while still preserving its historic architecture. Inside you can find several statues dedicated to patron gods associated with good health, courage, and success – perfect for those looking for luck or spiritual protection! When night falls, visitors are also treated to breathtaking views of Tokyo's skyline from nearby Koen-dori Street — making Konno Hachimangū a must-visit for anyone venturing into Tokyo's vibrant city center.
Explore Harajuku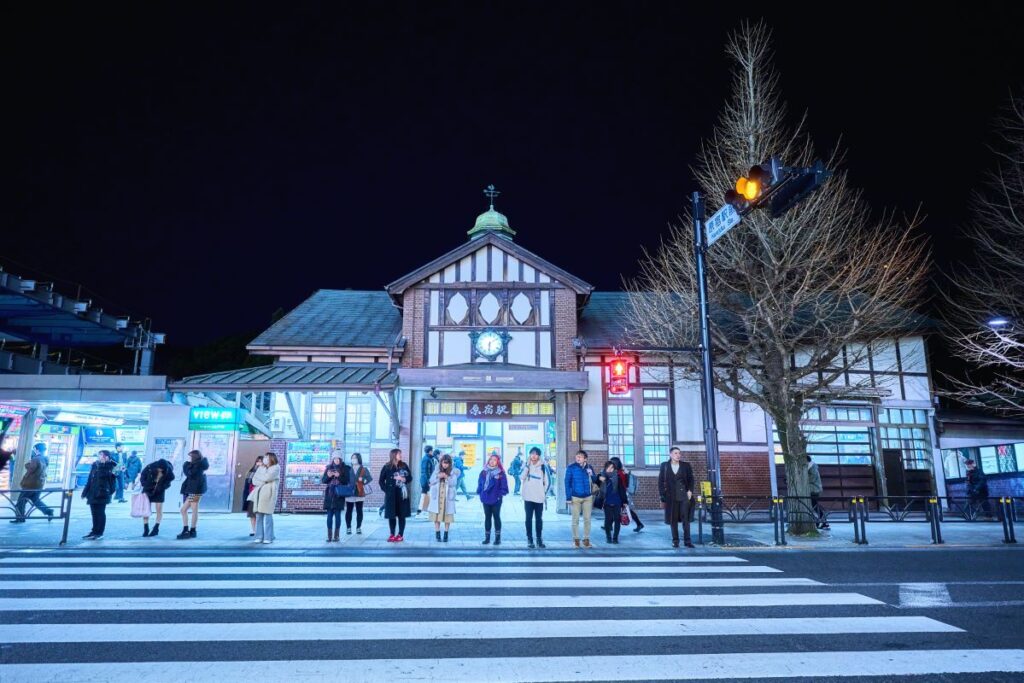 Explore Harajuku – the vibrant and colorful center of Tokyo, home to an endless array of unique shops and quirky attractions. From wild fashion boutiques filled with eccentric street-style threads to crazy cat cafés where you can while away a day sipping coffee surrounded by purring felines – there's something for everyone in this neighborhood!
If you're looking for jaw-dropping sites then take in Takeshita Street or Meiji Shrine; both within walking distance from each other. For a truly authentic experience don't forget about all the delicious treats available at nearby kawaii creperies too! So why not come explore Japan's most popular hangout destination? You won't be disappointed!
Cat Street
Cat Street in Harajuku is a popular hangout spot for Tokyo's fashion-forward youth, who take to its streets on sunny weekends. With quirky boutiques and vintage stores dotting the sides of narrow alleys lined with comely cafes; it's easy to understand why this area has become so fashionable amongst trendsetters from around the world!
But what you might not know is that Cat Street was originally called Kawaii Road (Kawaii meaning 'cute') after local shop owners began dressing up their storefront windows using kittens as part of an attempt at drawing customers in.
Nowadays shoppers can find all sorts of adorable cat accessories alongside clothing items fit for any style conscious individual. Whether solo or accompanied by friends, one thing's certain — a stroll down Cat Street will always make sure your day ends off purrfectly!
Nonbei Yokocho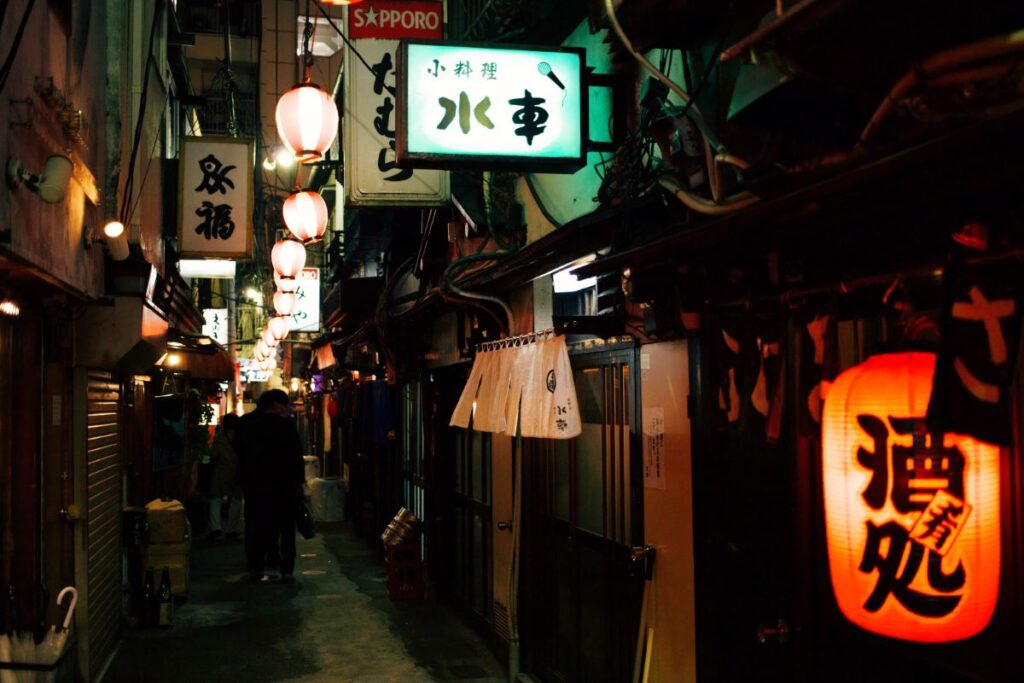 Shibuya Nonbei Yokocho (or "Drunkards Alley") is an alleyway in Tokyo's famous Shibuya district lined with tiny bars and eateries. It's the perfect place to go for a unique night out – each bar has its own eccentric atmosphere and diverse range of snacks that pair perfectly with your drink of choice! From Japanese staples such as Yakitori skewers, ramen noodles, udon bowls or tempura veggies to western delicacies like pizza or pasta dishes-there really is something for everyone here. While you're at it why not join one of the many karaoke competitions going around? Singing along can be just as fun after a few beers!
Takeshita Street
Takeshita Street is a unique shopping street in Tokyo, Japan that symbolizes the city's youth culture and fashion. This lively 800-meter stretch of shops, cafes and restaurants draws young Japanese people from near and far to seek out their latest trends.
Amongst its wide array of items for sale are popular crepe stands selling desserts such as strawberries with whipped cream or ice cream topped with sweet condiments; clothing stores offering funky fashions sure to turn heads on anyone brave enough to wear them; cool jewelry consisting mainly of bright colored plastic accessories shaped like animals or food objects; plus international cuisine establishments serving up everything from Indian curry dishes through ramen noodles all at affordable prices guaranteed by strict price control regulations enforced here. Takeshita Street offers an upbeat experience full of excitement that can't be found anywhere else!
Omotesando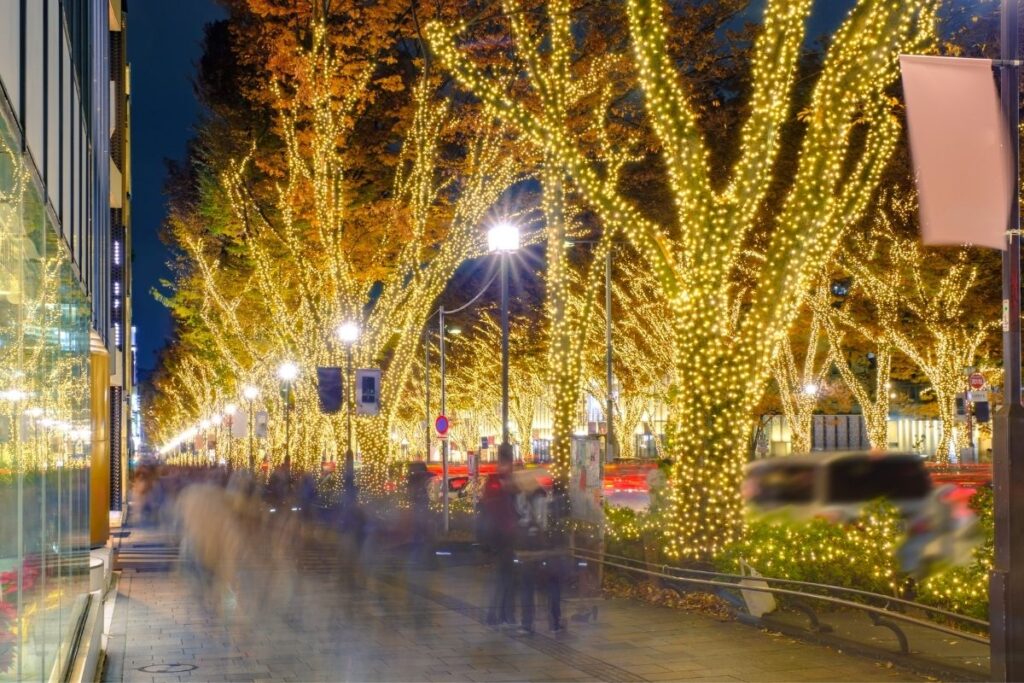 Omotesando is an iconic street in Tokyo renowned for its chic boutiques and stylish cafes. This sought-after shopping district attracts shoppers from all over the world, thanks to its unique blend of fashion houses like Louis Vuitton, Gucci, Prada, and more.
On one side it has modern high-rise architecture while on the other you'll find traditional Japanese-style buildings; this contrast creates quite a beautiful atmosphere.
The lush evergreen trees lining up alongside add even more charm – making Omotesando not just your regular hangout spot but also perfect for wedding photography locations! You can't miss out either on their amazing variety of trendy cafés serving some delicious treats that'll fuel your shop till you drop escapades during any season here at Omotesando.
Nezu Museum
The Nezu Museum is an eclectic display of Japan's rich artistic and cultural history. With over 7,400 works housed in six buildings, the museum offers a unique insight into the development of Japanese art from antiquity to modern times.
The exhibition spaces present rare pieces such as ancient Buddhist artifacts, ceramics produced by some of Japan's most renowned potters, and artwork including kimonos made using traditional Shibori dyeing techniques. In addition to its extensive collection from different eras in Japanese history, visitors can admire carefully arranged gardens characteristically featuring azaleas and pine trees planted on stone-covered grounds for beautiful views throughout the year – especially during March when cherry blossoms bloom!
D47 SHOKUDO
D47 SHOKUDO is a delicious fusion-style eatery in Japan. They specialize in creating innovative dishes with traditional Japanese ingredients and flavors, as well as local produce from around the country.
The menu items are quite varied but all share an underlying sense of freshness, creativity, and flavor that you can't find anywhere else! For example, their popular Ochazuke donburi has savory salmon flakes served over warm rice with green tea poured on top for added flavor – truly unique! Another great dish to try is the chicken kara-age plate – deep-fried tender pieces of chicken cooked up crispy alongside juicy vegetables like carrots bursting with flavor.
D47 Shokudo also offers some amazing set menus allowing customers to sample different types of food at once.
Cosmo Planetarium
Cosmo Planetarium Shibuya is an astronomical facility located in Tokyo, Japan. It has been providing educational programs about the universe since it opened its doors in 1989. From a stunningly realistic digital planetarium dome to high-tech telescopes, Cosmo Planetarium Shibuya offers one of the most comprehensive astronomy experiences available on Earth!
With their superconducting magnet "Space Eye", they can observe stars that are up to 1000 times fainter than those seen with traditional instruments and capture images from outer space at unprecedented resolutions.
Additionally, visitors can view 3D visuals depicting nebula near our solar system projected onto the dome's interior panels during scheduled shows or independently explore constellations through interactive exhibits hosted by knowledgeable staff members within their dedicated Astronomical Observation Room.
Love Hotels in Shibuya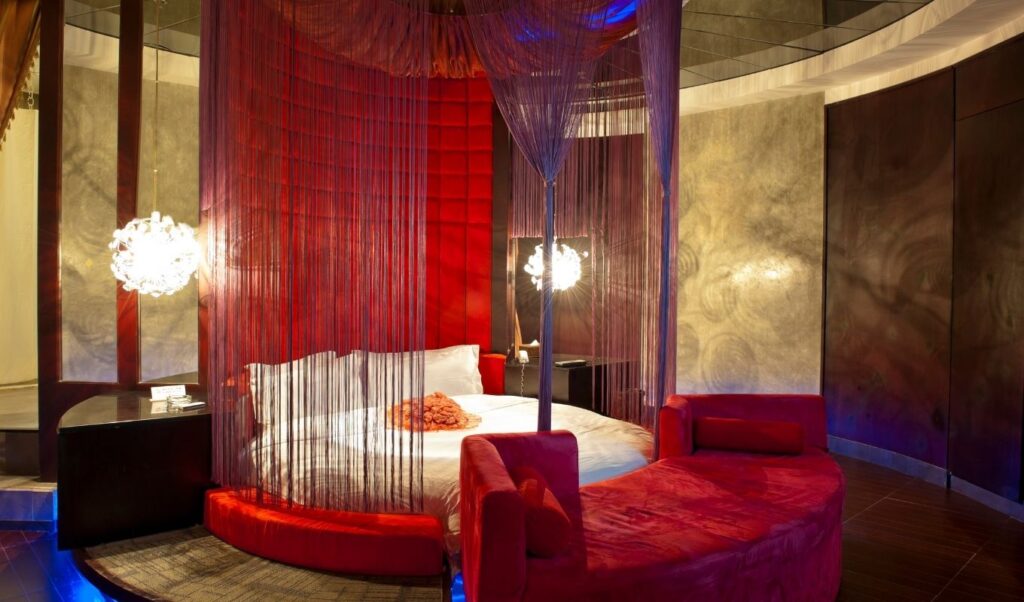 Love Hotels in Shibuya offer a unique experience that's full of surprises. These hotels are designed to provide guests with privacy and anonymity while they explore all the different possibilities love has to offer.
The rooms come equipped with heart-shaped beds, mirrors on the ceilings, romantic soundtracks, sunken baths, and other amorous amenities like vibrators or adult magazines. This is an alternative version of Tokyo nightlife for couples searching for new levels of intimacy or just wanting some alone time away from prying eyes.
Love Hotels also have "theme" rooms where you can live out every fantasy imaginable – ranging from dreamy princess suites to leather-covered dungeons complete with bondage tools!
Shibuya Guide
Shibuya offers a unique and exciting experience for visitors, with plenty of things to see and do. Whether it's shopping at the popular boutiques and malls or visiting attractions like Shibuya Crossing, there are countless activities that can fill your day in this bustling district. From traditional Japanese temples to modern skyscrapers, karaoke bars to fine dining restaurants – you'll never be bored when exploring all that Shibuya has on offer! Spending time here will leave unforgettable memories from one of Japan's most vibrant neighbourhoods – making sure each visit is as enjoyable as possible.