Asakusa is one of Tokyo's most iconic neighborhoods, full of colorful temples, traditional markets, and delicious street food. With so many amazing things to do in Asakusa, it can be hard to know where to start
From exploring ancient temples such as Senso-ji and Kaminarimon Gate; shopping for unique souvenirs at the bustling Nakamise Dori market; sampling some of the best street food Japan has to offer on Kappabashi Street; discovering forgotten treasures at antique stores around Denboin Garden – there are endless possibilities waiting to be discovered here.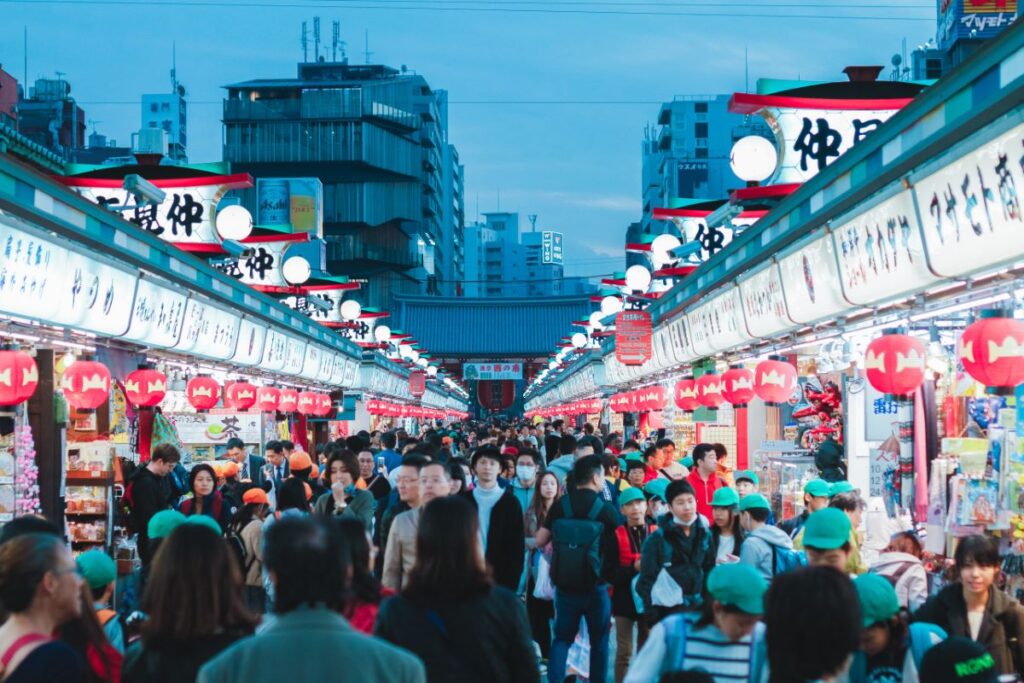 The area's rich history also means that you can explore centuries-old architecture while taking in stunning views from panoramic observation decks like the Sky Tree Tower with remarkable city vistas below.
And if you're looking for something a bit more modern then take part in some exciting activities such as Sumida Park cruise rides along the Sumida River or hop onto an enjoyable ride aboard the famed Tobu Line train through rural areas close by.
Here are our picks for the best things to do in Asakusa.
Sensō-ji: Step into Serenity at Tokyo's Oldest Temple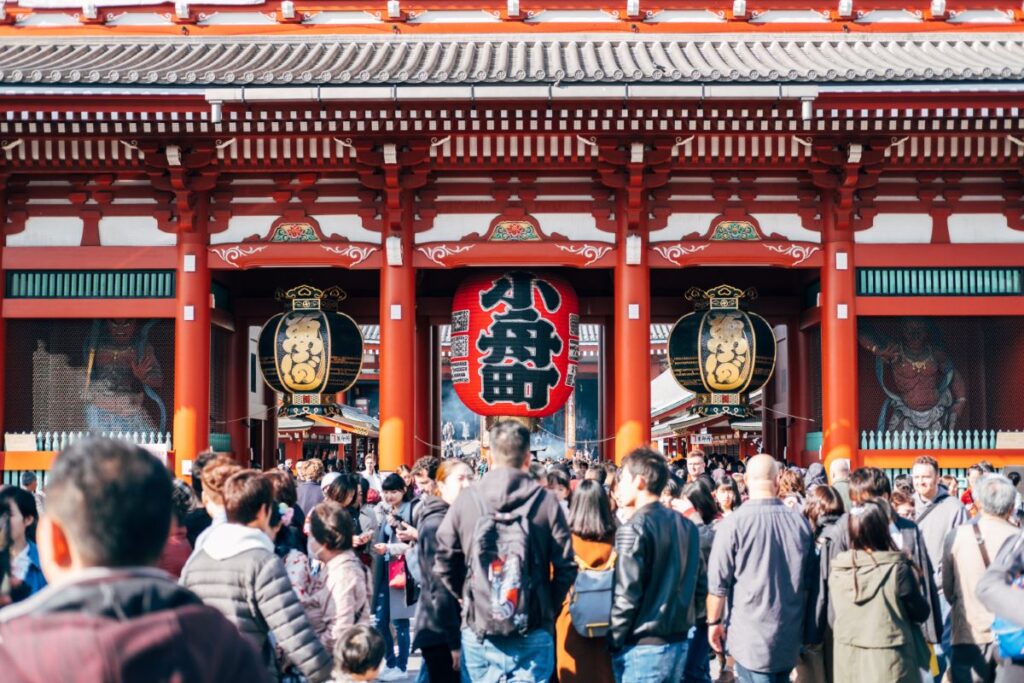 Sensō-ji is an ancient Buddhist temple located in Tokyo which is said to be the oldest and most significant temple in Japan.
It was built by two fishermen brothers who discovered a small statue of Kannon, the goddess of mercy while they were fishing.
Since then people started worshiping it at this place leading to its transformation into Sensō-ji – a full-fledged functioning temple with many sub-temples within it.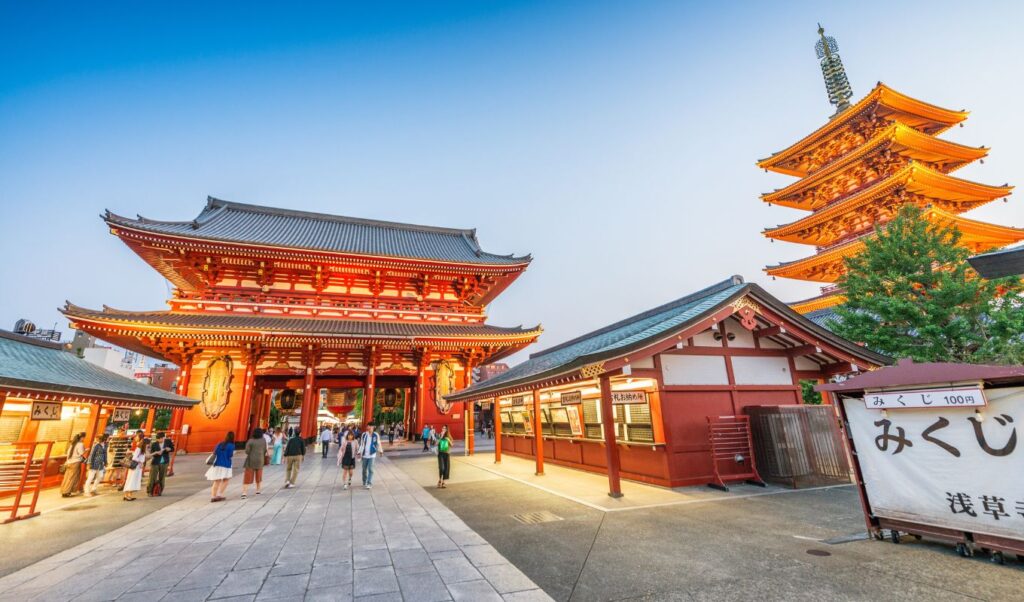 The main attraction here is the vibrant traditional Japanese-style gates known as 'Nakamise' where one can find shops selling souvenirs like fans and figurines symbolizing luck from all over Japan.
And don't miss out on grabbing some delicious treats such as crispy senbei (rice crackers) or sweet nikuman(meat buns).
Did you know that every year around 30 million visitors come visit sensor-ji?
Ride a Rickshaw Around Asakusa: Explore Asakusa in a Quirky and Unique Way
Take a rickshaw ride around Asakusa for an exciting and unique experience.
This traditional form of Japanese transportation will take you through the charming streets of Tokyo's most popular sightseeing district.
Enjoy views from your distinctive seat as you are steered by one of the experienced drivers, who can tell stories about local culture along the way.
You might even make stops at iconic sites like Sensoji Temple or Nakamise Shopping Street to look around and explore further; all while feeling truly immersed in old-time Japan.
End with a delicious snack on Kappabashi Kitchenware Town's famous Shokado street before returning home with precious memories.
Kaminarimon Gate: Witness the Majestic Gateway to Sensō-ji Temple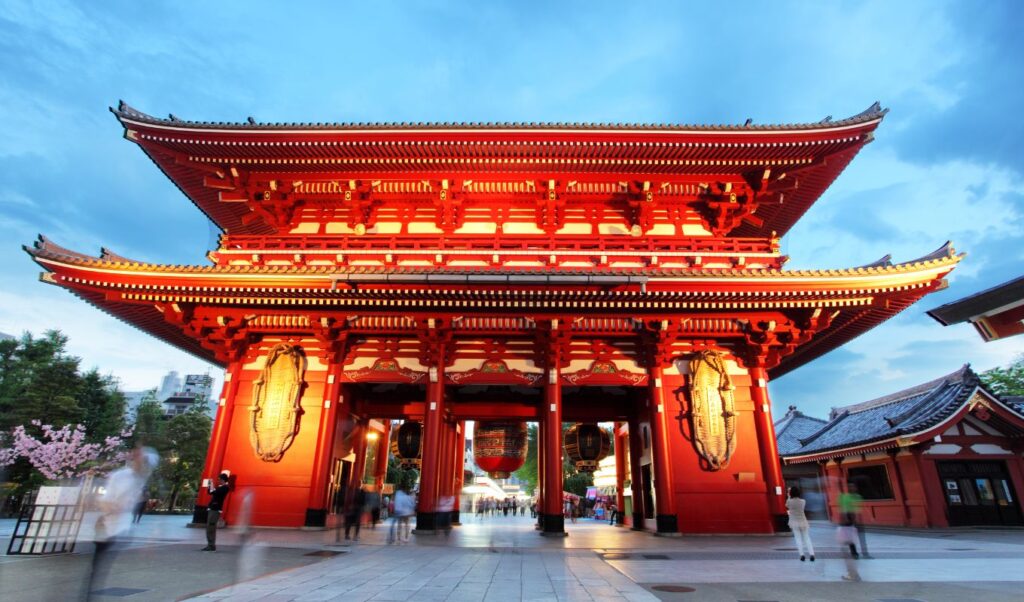 Kaminarimon Gate is a popular gate in Tokyo's Asakusa district, recognizable for its large red paper lantern with the characters "雷門" (Thunder Gate) inscribed on it.
This monumental entrance marks the beginning of one of Japan's most iconic tourist destinations: Senso-ji Temple and Nakamise Shopping Street.
Visitors can walk through Kaminarimon and two other nearby gates to explore a variety of traditional shops that offer souvenirs such as folding fans or kokeshi dolls depicting Japanese gods.
They also have access to delicious street food like taiyaki – fish-shaped pancakes stuffed with tasty fillings.
It makes any visit extra special.
Asakusa Rokku Street: Discover Asakusa's Hidden Gems on a Serene Stroll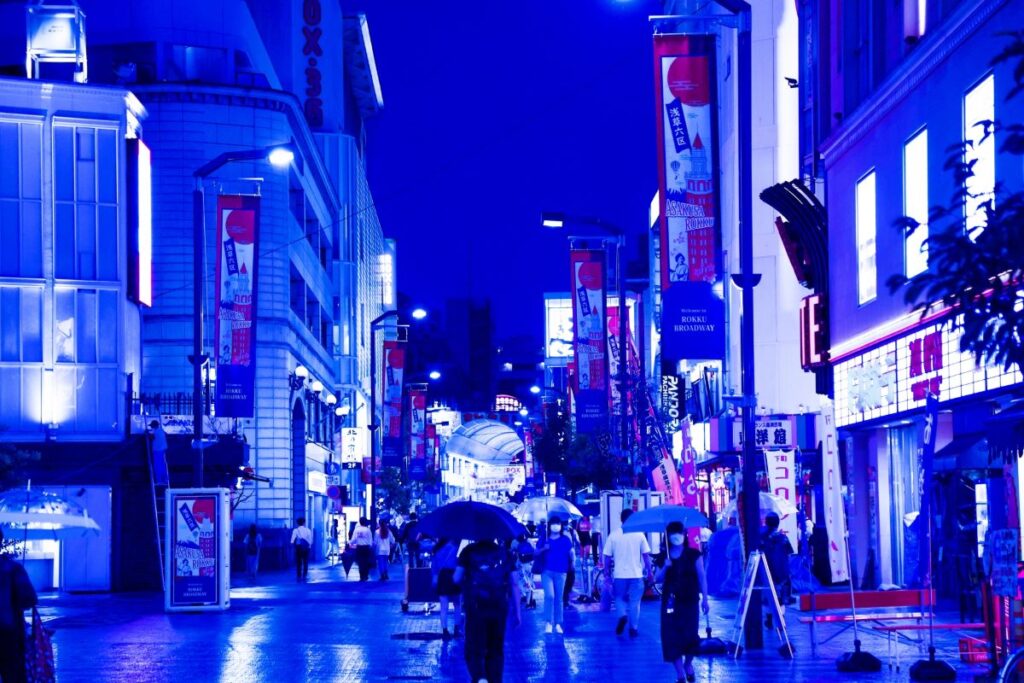 Asakusa Rokku Street is a bustling and historic street in Tokyo.
It's lined with shops selling everything from souvenirs to traditional Japanese snacks, as well as restaurants serving delicious dishes ranging from sushi to tempura.
As you wander down the narrow lanes and alleys of this area it's easy to get lost in its hustle-and-bustle energy.
Take your time though – there are plenty of hidden gems tucked away that reward those who explore further.
Visit Nakamise alley for an array of unique handicrafts and tasty treats or stroll around Sensoji Temple – Japan's oldest temple – where you can buy votive tablets inscribed with good luck messages which make great gifts too.
All these experiences make up what makes visiting Asakusa Rokku Street such an enjoyable experience.
Nakamise-dori Street: Shop and Stroll along Asakusa's Vibrant Promenade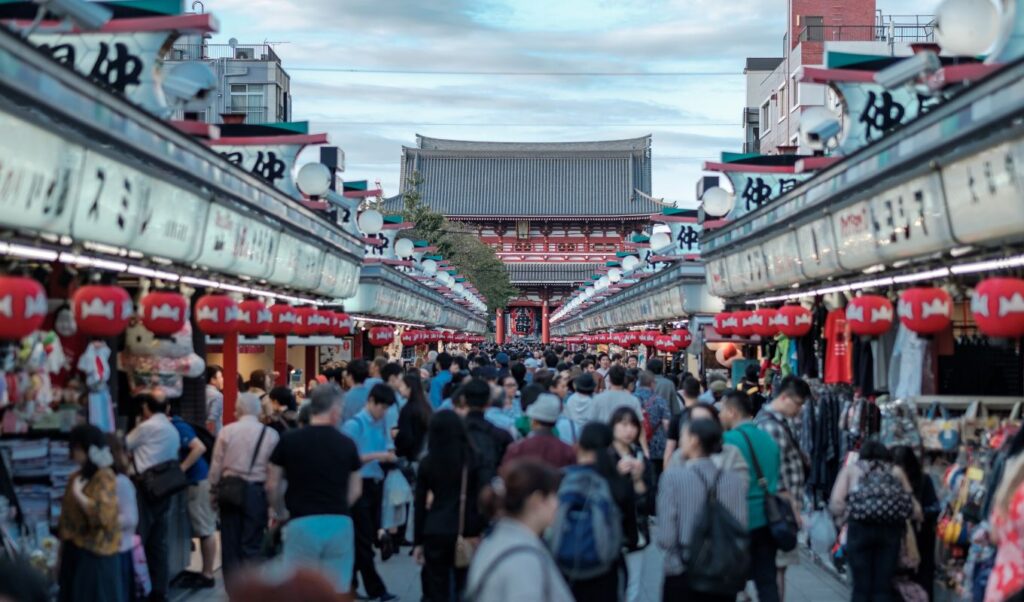 Nakamise-Dori Street is an iconic destination for tourists in Tokyo.
It's a vibrant street lined with shops selling traditional Japanese souvenirs, food, and crafts.
One of the most famous stores in Nakamisedoṛi is Kaminarimon which has been open since 1624.
As you stroll down this 300m long shopping street, you can buy everything from yukatas to tasty treats like Senbei (rice crackers) or Imagawayaki (sweet pancakes).
There's also plenty of cultures to experience – don't forget to take photos of all the colorful displays along your way.
Whether it be unique snacks or beautiful handicrafts – Nakamise-dori Street offers something special that will make your trip unforgettable.
Kappabashi Dougu Street: Unleash Your Inner Chef at Tokyo's Culinary Haven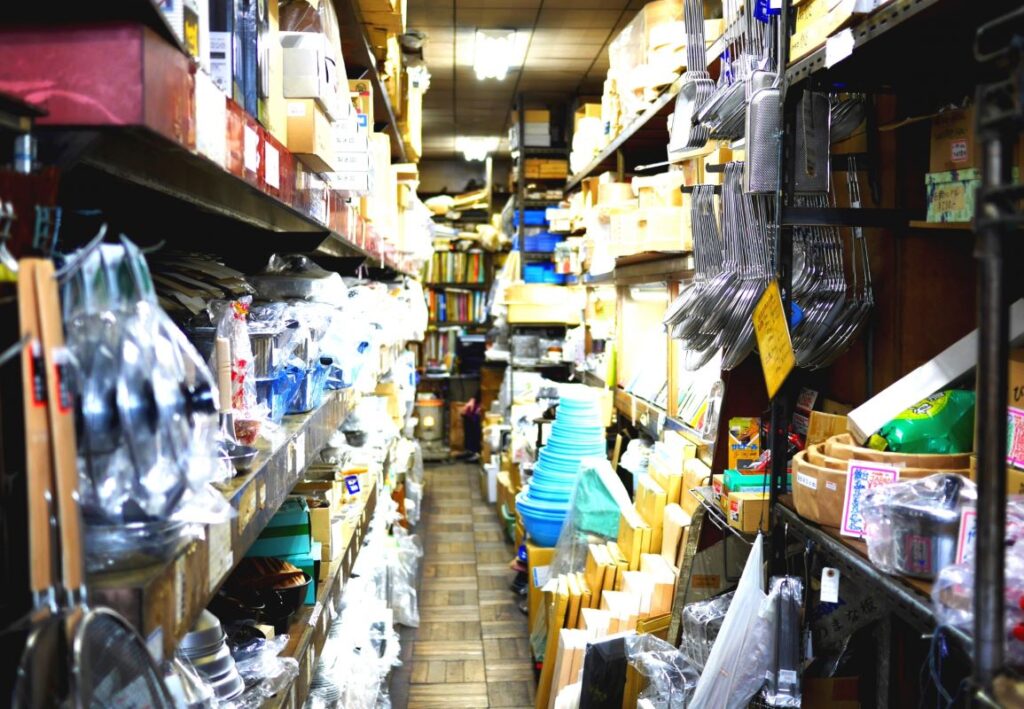 Kappabashi Dougu Street, located in Asakusa Tokyo is a must-see for anyone interested in traditional Japanese cooking.
Here you can find cookware and tableware from handmade wooden spoons to plastic food samples – the "food dummies" used by restaurants as window displays.
There's also souvenir shops selling folk crafts and kimonos, plus restaurant supplies including whimsical animal sculptures of cats or frogs (called manekineko).
Kappabashi has something special for every kitchen enthusiast – no matter your experience level.
Kimono Experience In Asakusa: Dress to Impress and Explore Asakusa in Style
Experience the beauty of Japan's traditional clothing and culture with a Kimono Experience in Asakusa.
Spend an afternoon strolling around one of Tokyo's oldest districts wearing this stylish, yet graceful outfit.
Get hands-on experience learning how to put it on correctly or have your photo taken while walking along the celebrated Senso-ji temple steps.
Take time to marvel at all that Asakusa has to offer: its lively shopping street Nakamise-dori, iconic Hanayashiki amusement park, and spectacular views from Skytree Tower will make for a unique day out you won't forget soon.
Asakusa Culture Tourist Information Center: Get the Lowdown on Asakusa's Best-Kept Secrets
The Asakusa Culture Tourist Information Center is a great way to explore Tokyo's traditional charms.
Here, you can find helpful staff that provides information about local attractions and transportation.
They also offer tours of Sensoji Temple and the Nakamise Shopping Street with knowledgeable guides who share fascinating stories behind each landmark.
The center even offers activities like origami workshops where visitors get to make their own Japanese paper art souvenirs.
So why not take advantage of all these fun opportunities—head over today for an unforgettable experience in Japan.
Asakusa Denboin-Dori: Walk in the Footsteps of Samurai in Asakusa's Historic Street
Asakusa Denboin-Dori is an exciting spot for a stroll in Tokyo.
Every single step you take along the street, located near Senso-ji temple, will bring something different and unique to your attention.
From exclusive traditional Japanese shops that offer top-quality souvenirs like kimonos and yukatas to modern cafes serving delicious crepes with a great views of the Asakusa sky tree; this bustling shopping area has it all.
Do not forget to keep an eye out while wandering around as there are many interesting items such as antique dolls or old gadgets stores at every corner.
There's no other place than Asakusa Denboin-Dori where one can feel the true spirit of Japan.
Asahi Beer Tower: Raise a Glass to Tokyo's Iconic Landmark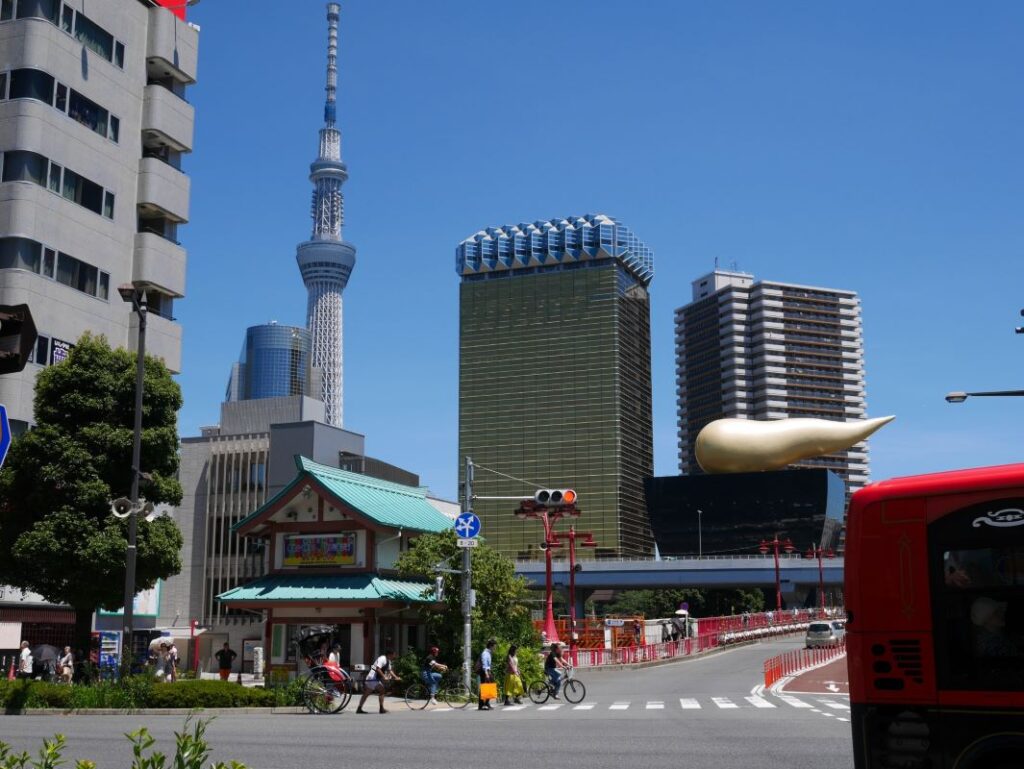 Asahi beer tower is one of the iconic symbols of Japan.
It's a bright yellow, five-story structure that stands tall in many cities around the country.
The top floor doubles up as an observatory deck, so you can enjoy views across the city too.
On every level, there are interactive attractions like virtual reality games and quizzes about Asahi products – perfect for those seeking to learn more about this classic Japanese brand or just have some fun with friends.
For foodies out there, restaurants at each level offer delicious local cuisine paired perfectly with glasses of cold Asahi beer – definitely worth checking out.
Sumida River Cruise: Sail Along Tokyo's Iconic Waterway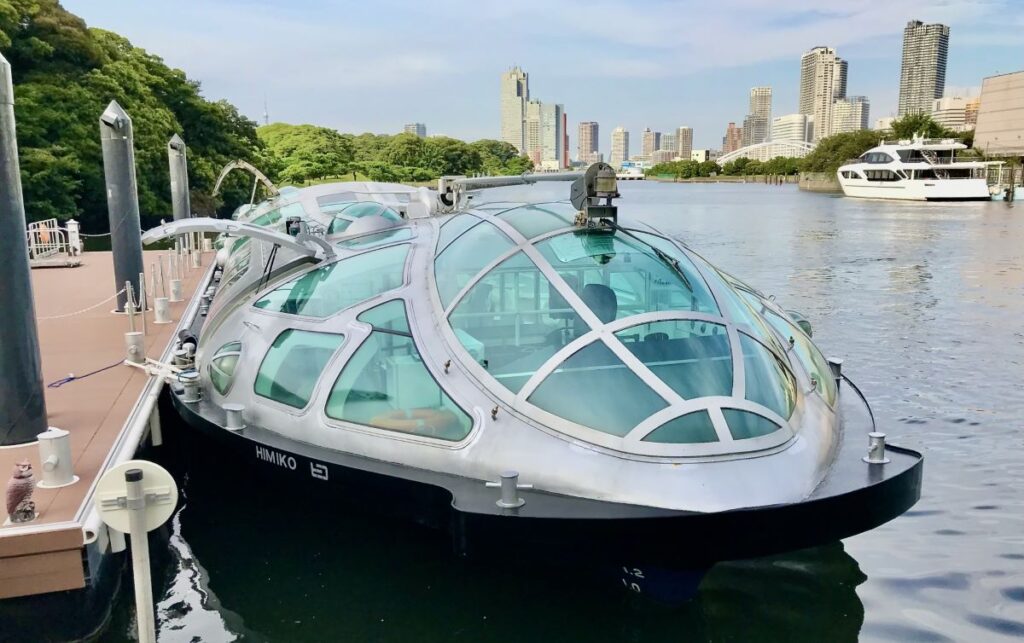 Embark on an unforgettable journey along the Sumida River.
The cruise takes you around some of Tokyo's most iconic landmarks.
As you glide downriver, your knowledgeable tour guide will tell stories and provide interesting facts about places like the historic Senso-ji temple and Kachidoki Bridge from World War II.
During springtime, visitors can also enjoy a stunning view of sakura blossoms while they take in views such as Skytree appearing above them during nighttime cruises.
Take this chance to experience Tokyo history whilst enjoying its enchanting cityscape – all within one breathtaking ride.
Asakusa Jinja: Unveil the Mysteries of Asakusa's Shinto Shrine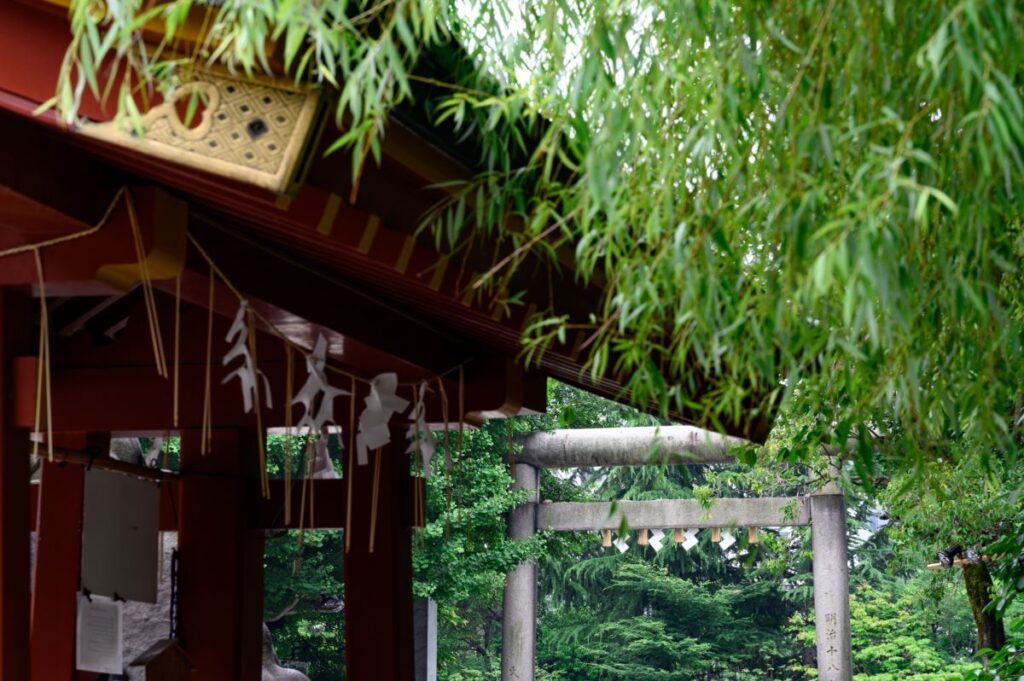 Asakusa Jinja is a historic Shinto shrine located in Tokyo that dates back to 645 AD.
It stands as one of the oldest and most significant landmarks in Japan, known for its cultural importance to local people.
Aside from offering a place of spiritual refuge, Asakusa also provides traditional festivals such as Sanja Matsuri, which occurs every May and involves hundreds of colorful floats parading through the streets.
Additionally, it's home to Kaminarimon – a famously photographed gate with two red chōchin (paper lanterns) on either side – making this jinja an awesome must-see attraction when visiting Tokyo.
Tokyo Skytree: Reach for the Skies with Tokyo's Tallest Tower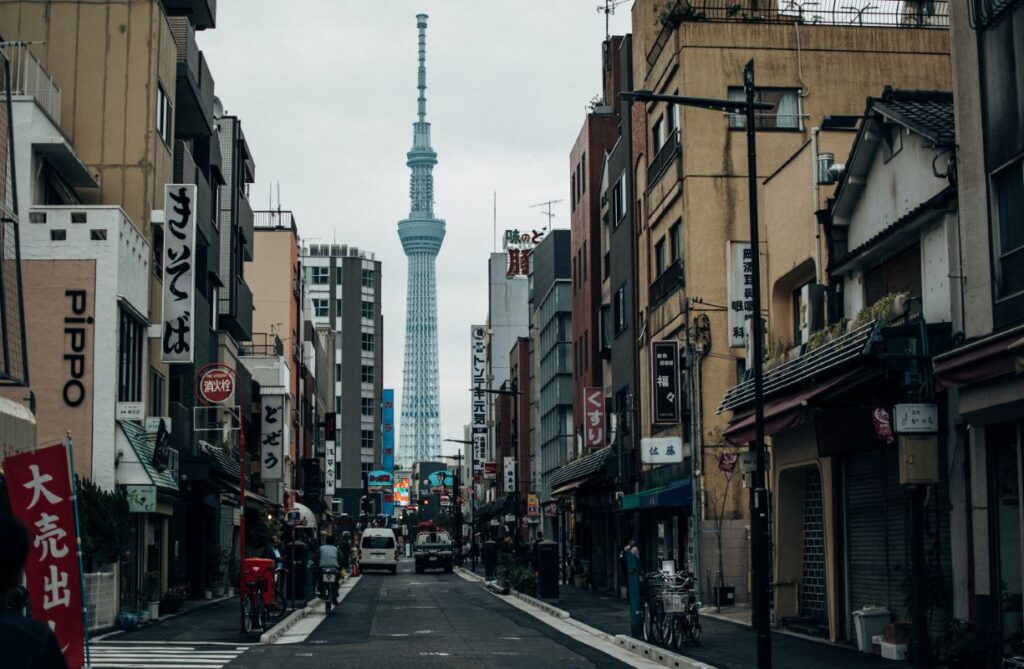 Tokyo Skytree is a must-see when you visit Tokyo.
Standing at 634m (2,080ft) tall and located in the Sumida area of Tokyo, it's one of the tallest structures in Japan.
With two observation decks – 350 meters up and 450 meters up – visitors can enjoy unprecedented views over greater metropolitan Tokyo from here.
On clear days you can even see Mt Fuji.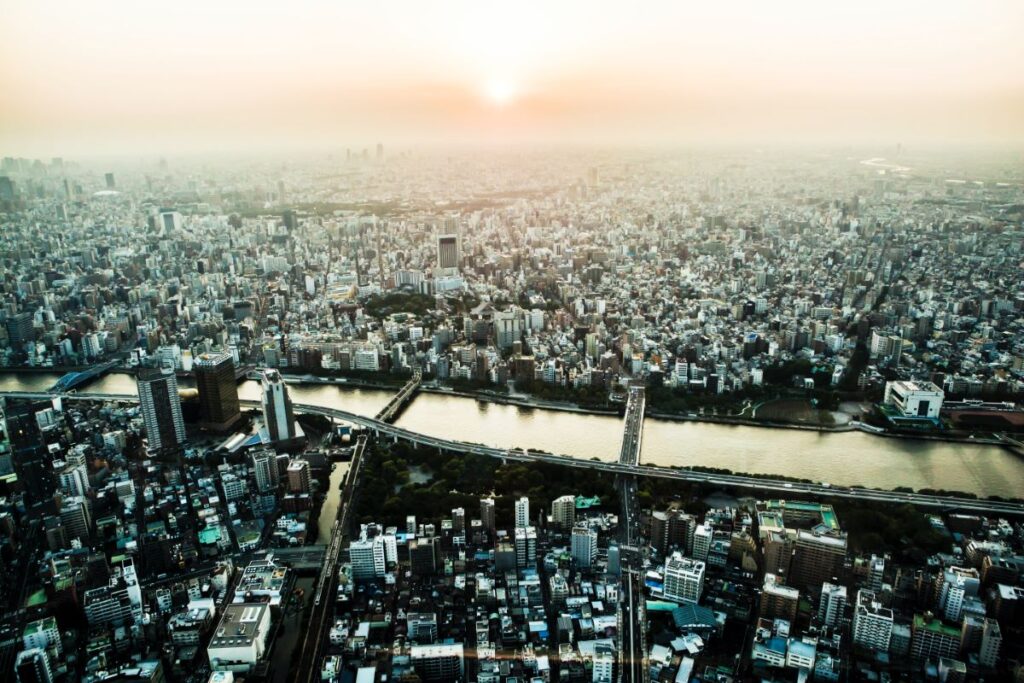 In addition to its role as an observation tower, Tokyo Skytree also has several shopping centres with souvenir shops, cafes and restaurants which make for great pit stops during your visit.
Plus there's no shortage of fun activities either; they have virtual reality experiences on offer or why not take a ride on their glass elevator? Whatever brings you to this iconic spot marveling over modern architecture will be an unforgettable experience that's full surprises along the way too.
Two Buddhas at Senso-Ji: Find Peace and Enlightenment in Asakusa's Holiest Site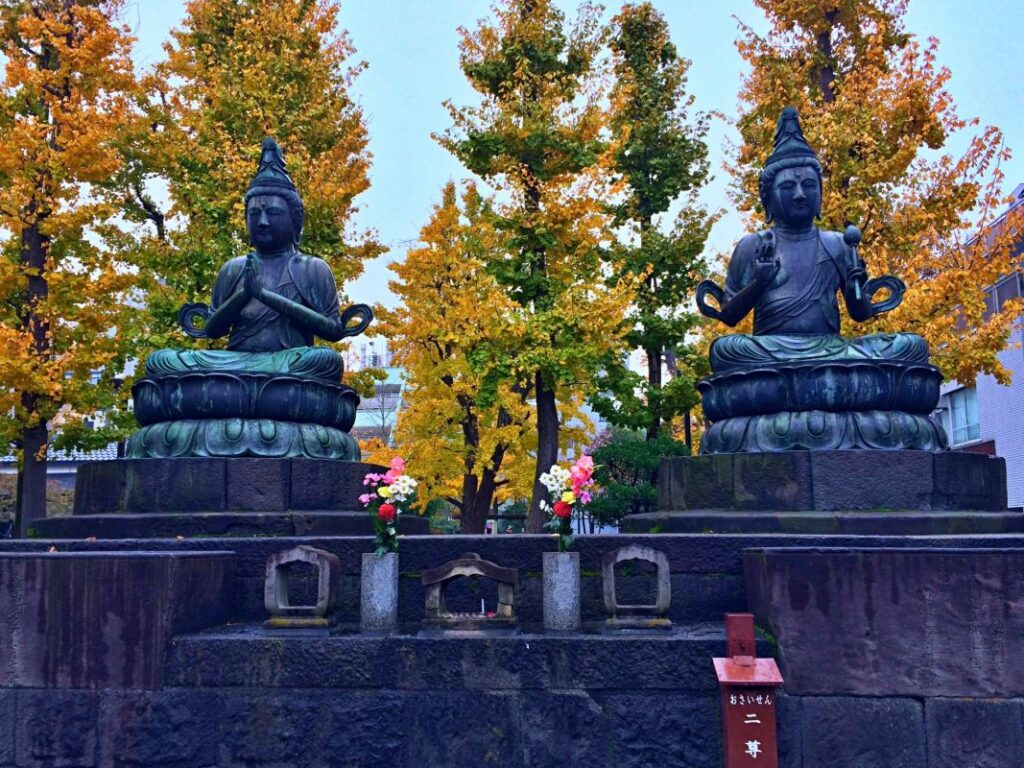 The two buddhas at Senso-ji in Tokyo, Japan have been a part of the temple since its beginning.
The larger Buddha is known as "Kannon" and it looks out over visitors coming to pray for good luck, success or love.
Its smaller counterpart is called "Jizo" as he guards those who are in need of protection from bad luck and harm.
Both Buddhas watch over all who come here with compassion while representing different aspects of Buddhist teachings: Kannon symbolises mercy and Jizo stands for wisdom – both valuable lessons.
Matcha Gelato at Suzukien Asakusa: Satisfy Your Sweet Tooth with Asakusa's Best-Kept Secret
If you're visiting the ancient city of Asakusa, make sure to try Suzukien's Matcha Gelato.
This traditional Japanese treat is made with matcha and mitarashi-an (rice syrup) for sweetness.
The texture is light and creamy – like an Italian gelato but with a distinct green tea flavor that lingers on your tongue.
It's also decorated with colorful sweetened adzuki beans and drizzled in kinako (soybean flour).
Eating this delicious dessert feels like taking part in Japan's historical sweets-making traditions.
Asakusa Nishi-sandō Shopping Street: Shop Till You Drop in Asakusa's Lively Arcade
Asakusa Nishi-sandō Shopping Street is a great place to explore traditional Japanese culture and shop.
Here you will find everything from kimono stores to old-fashioned candy shops selling unique snacks like anmitsu (a type of jelly dessert).
There are also restaurants serving up delicious dishes such as tempura, soba noodles, tonkatsu pork cutlet and yakitori skewers.
Of course, souvenirs can be found here too.
You'll come across cute omiyage — special items for gifting friends or family that reflect the Edo spirit of this historic area in Tokyo.
Explore Asakusa Nishi-sandō Shopping Street today for a really fun cultural experience.
Konica Minolta Planetarium TENKU: Gaze at the Stars in Tokyo's Only Planetarium in the Sky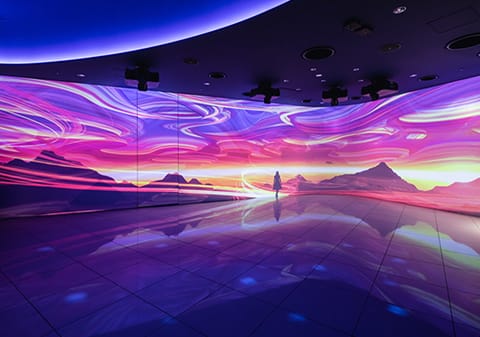 Konica Minolta Planetarium TENKU is an amazing digital experience for all ages.
With vibrant colors and stunning high-definition visuals, it recreates the beauty of outer space.
Experience close encounters with interstellar visitors or learn about the constellations scattered across our night sky – each show comes to life in a way you'd never expect from an ordinary planetarium.
From special exhibits featuring comets and deep space objects to educational seminars on astronomy, there's something fun for everyone at Konica Minolta Planetarium TENKU
Sumida Park: Embrace Nature's Beauty in the Heart of Tokyo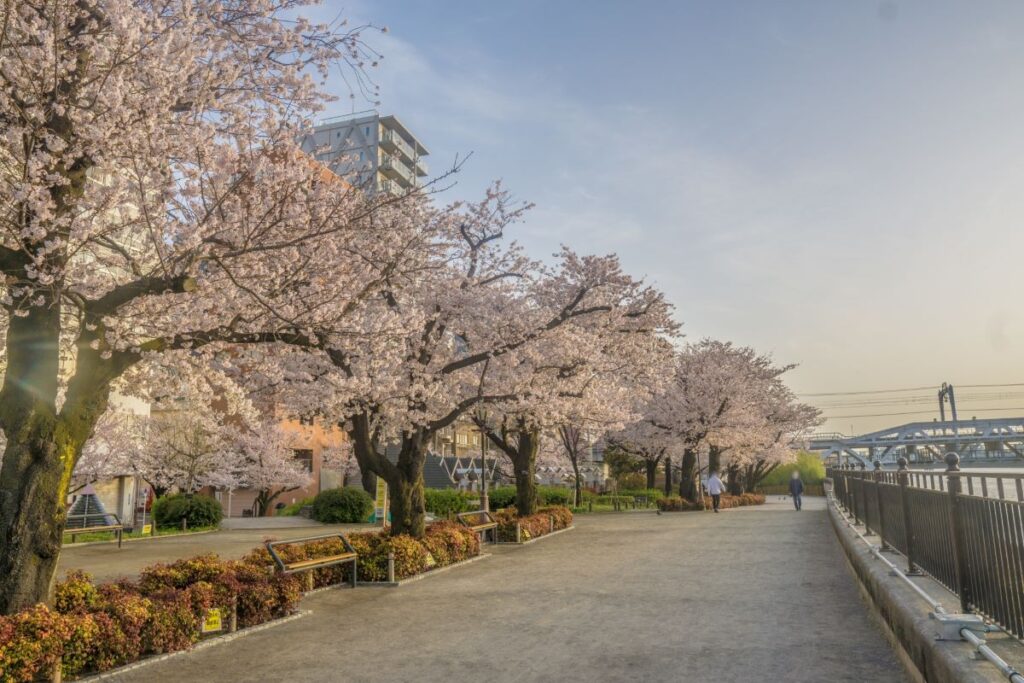 Sumida Park is a serene oasis in the heart of Tokyo.
Located near both Senso-Ji Temple and Sky Tree, this park offers visitors plenty of cultural sights to explore.
Nature lovers can wander through the many winding paths surrounded by cherry trees that blossom pink during their peak season – it's truly an amazing sight.
Sumida also boasts two large ponds with traditional bridges crossing between them; fishing enthusiasts often come here to try and catch carps or other types of fish.
With its tranquil atmosphere, stunning nature views, and historical attractions nearby, Sumida Park is one place you definitely need to visit when visiting Japan.
Edo Taitō Traditional Crafts Museum: Travel Back in Time to Old Tokyo
The Edo Taitō Traditional Crafts Museum is a great place to learn about the traditional arts and crafts of Japan.
From kimonos, paper marbling, porcelain work, and silverware you can experience real-life demonstrations from artisans specializing in these skills.
The museum also hosts regular workshops so visitors can try their hand at making some of their own works.
Take home your very own handmade piece as a souvenir – paper-marbled name tags are especially popular.
There's plenty more to explore here with exhibits ranging from old tools used traditionally by craftspeople centuries ago right up to modern interpretations today – it really celebrates Japanese culture as no other museum does.