As winter comes to a close, Tokyo begins its transformation into a picturesque wonderland of pink hues. Cherry blossoms, or sakura in Japanese, are an iconic symbol of springtime and hold deep cultural significance for the people of Japan. For centuries they have been celebrated in song and poetry as symbols of renewal and impermanence; their fleeting beauty serving as a reminder that life is precious but also inherently transient.
If you're lucky enough to be planning your travels around this time then it's worth considering taking part in one very important ritual: hanami (literally "flower viewing"). The act itself involves gathering with friends or family under the blooming trees while enjoying food and drink – often sake – turning parks into mini picnic sites.
In this guide we will take you on journey through some incredible places where cherry blossom season blooms brightest throughout Tokyo.
Tips
1. Check the bloom forecast: Before heading out to see the cherry blossoms, make sure to check the official Sakura Zensen (cherry blossom front) forecast for Tokyo.
2. Avoid peak crowds: The best time to enjoy hanami (flower viewing) in Tokyo is during weekdays or early mornings when there are fewer visitors and less crowded.
3. Picnic essentials: Bring a mat or tarp, drinks and snacks for your picnic under Japan's iconic sakura trees.
4. Take photos with locals: Many locals also come out during this festive season so don't be shy about taking selfies with them posing against stunning backdrops of pink petals.
5. Discover hidden spots : Get off-the-beaten-track by exploring lesser-known parks such as Yoyogi Park , Kitanomaru Park etc which escape tourist traps like Meguro River .
6.Relax at Night -: Cherry Blossomed Parks look absolutely beautiful post sunset till late night hours . So catch on that chilled breeze while watching illuminations from spring lanterns
7.Respect Nature- It's important not disturb fallen blooms around areas causing littering & Hamper views, because it may affect next year's blooming cycle too..
8.Try Matcha Drinks – Relish on some refreshing matcha iced teas near popular shrines located across these public spaces including Meiji Jingu Shrine,
9.Wear Comfortable Shoes – As you might want explore those lovely paths winding through different gardens. comfy shoes will save energy preventing blisters..
10.Be Hydrated & Warm– Drink plenty of water throughout seeing sites otherwise dehydration
Best Time For Sakura In Tokyo
Tokyo's cherry blossom season is one of the most highly anticipated events in Japan. During this time, visitors from all over the world flock to Tokyo to witness the stunning pink blooms that cover trees throughout the city. This vibrant display typically occurs between late March and early April each year, but exact dates can vary depending on weather conditions.
The best way to stay informed about peak bloom times is by following updates from local news outlets or tourist information centers online before planning your trip. With its breathtaking scenery and festive atmosphere, cherry blossom season remains a must-see event for anyone visiting Tokyo during springtime.
Showa Kinen Park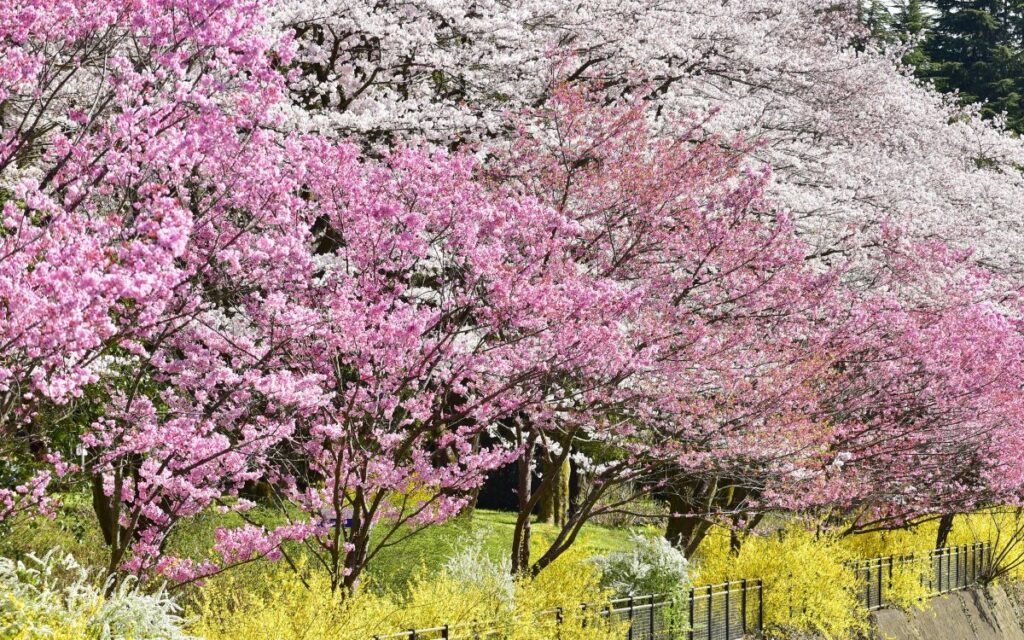 Showa Kinen Park, located in Tokyo's Tachikawa district, is a must-visit destination during the cherry blossom season. With over 1,500 sakura (cherry blossom) trees comprising of various types and hues like pinkish-white or pale white flowers to match every mood.
Not only does this park offer breathtaking views with its blossoming landscapes it also features fun activities such as row boating on picturesque ponds surrounded by blooming Sakura making for memorable moments you'll cherish forever.
Koganei Park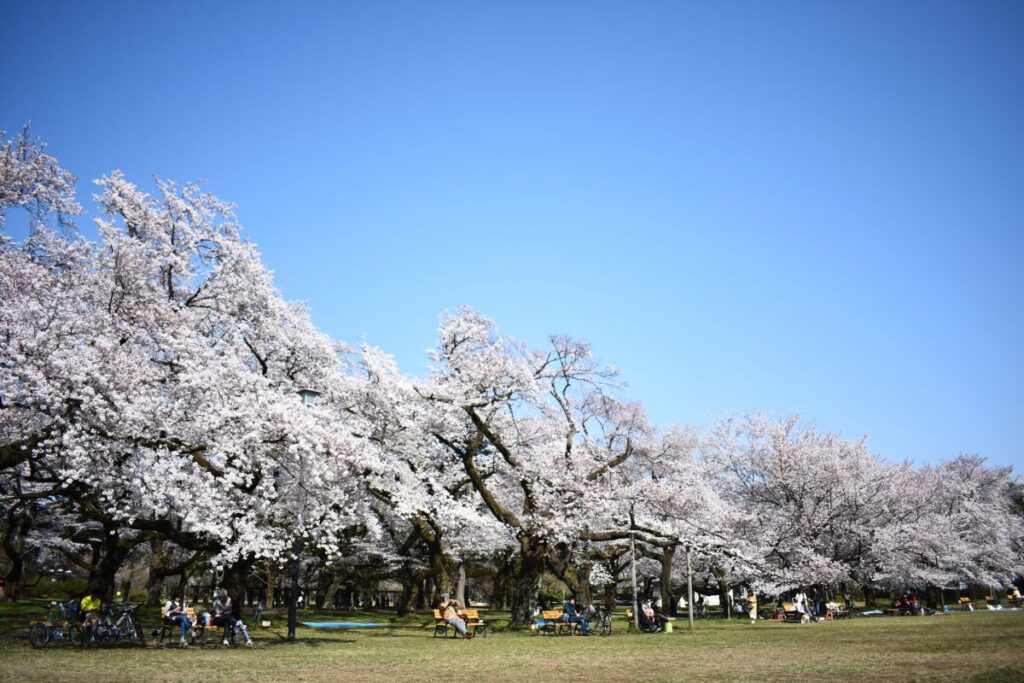 If you're looking for a serene and authentic spot to view cherry blossoms in Tokyo, then Koganei Park is an excellent choice. With over 1,700 sakura trees lining the river running through the park, visitors can enjoy stunning views of pink petals against blue skies. The best time to visit is usually early April when nature amazes with its color variety (the sightseeing window may vary depending on climate conditions). For photographers – this area offers numerous photo opportunities from picnic spreads under blooming branches or close-ups of buds turning into full flushes.
Yoyogi Park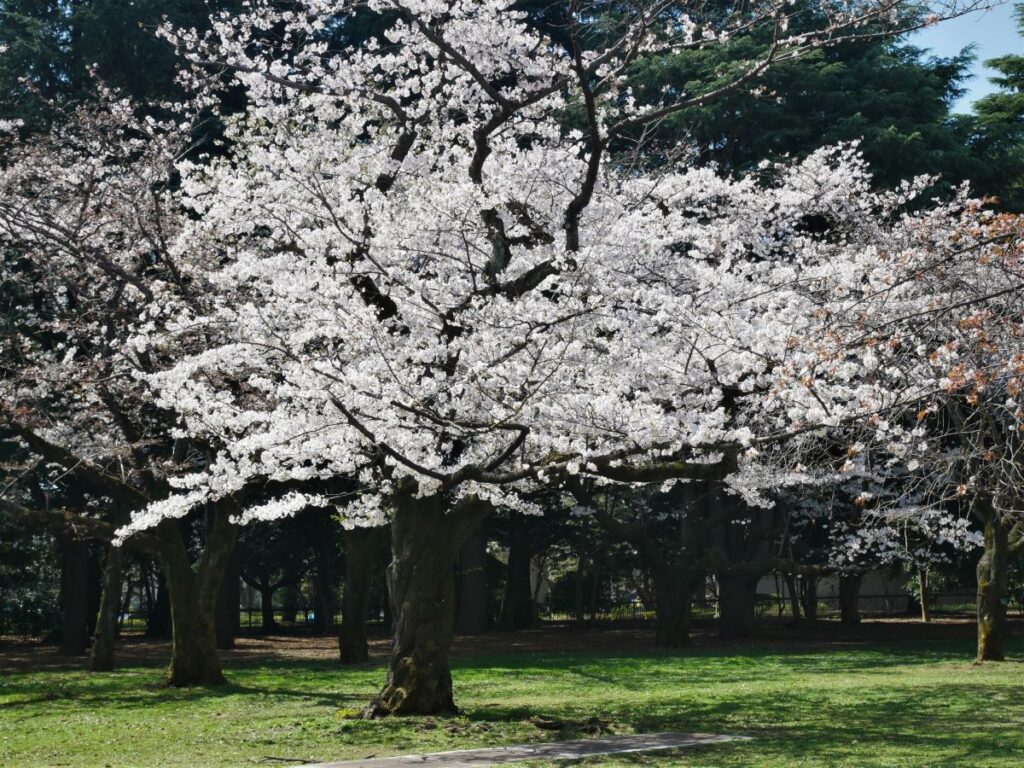 Yoyogi Park is one of the best places to witness cherry blossom in Tokyo, and for good reason. The park boasts over 600 cherry trees that come alive with delicate pink blooms each spring. Visitors can take a leisurely stroll under the blossoms or enjoy a picnic amidst the stunning scenery. In addition, Yoyogi Park hosts various events during hanami season including live music performances and food festivals making it an ideal destination for both locals and tourists alike seeking unforgettable memories amid breathtaking beauty.
Meguro River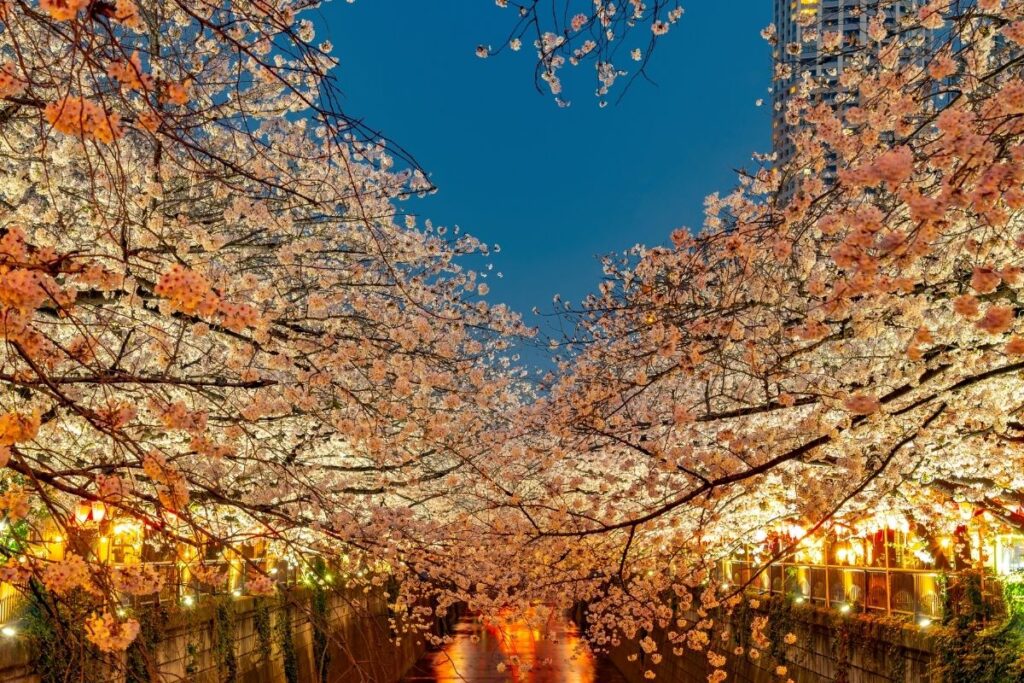 As the spring breeze sweeps across Tokyo, one of the most magnificent sights to behold is cherry blossom season. And at Meguro River, located in central Tokyo's Shinagawa ward, visitors can experience some of the city's best views of these pink and white blooms flourishing on both sides along a 7 kilometer stretch from Ikejiri-Ohashi to Hiyoshi station. Walking beneath tunnels formed by hundreds upon thousands branches with blossoms creates an atmosphere like no other during Springtime in Japan. Don't forget your camera because this spot offers incredible photo opportunities day or night.
Hama Rikyu Gardens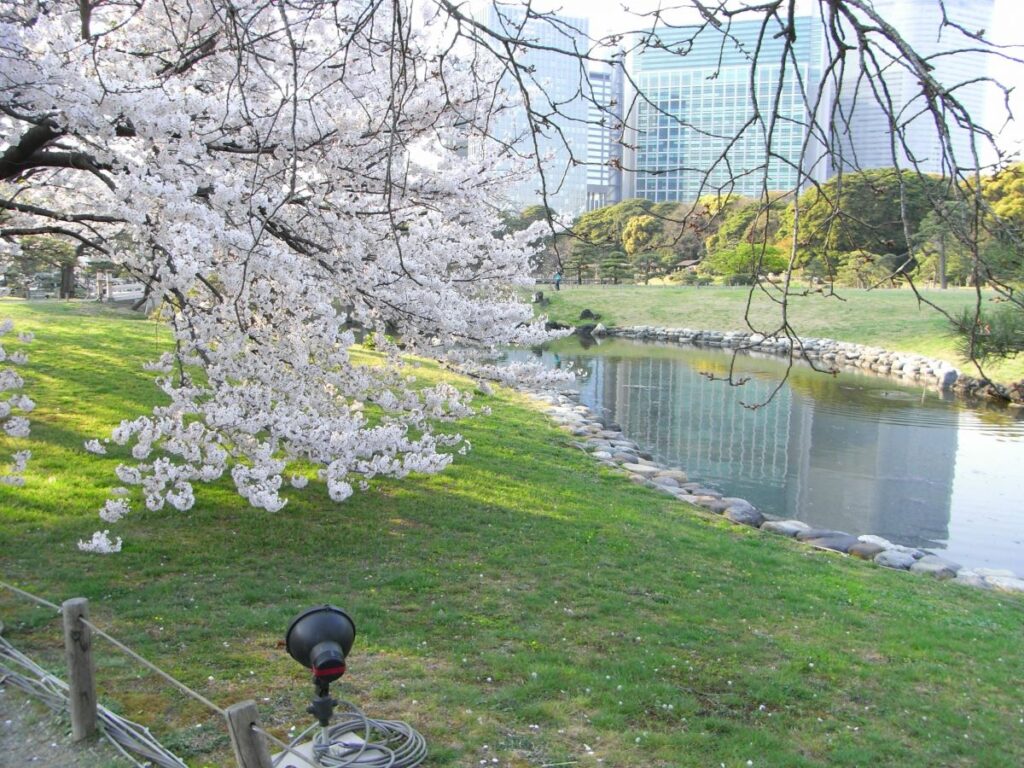 As the delicate pink petals of cherry blossom trees begin to bloom each spring, Tokyo turns into a fairy tale wonderland. The Hama Rikyu Gardens are one of the best places in Japan's capital city for admiring these beautiful blooms. With over 100s Sakatu-cherry trees scattered around this peaceful garden oasis, visitors can witness cherry blossoms at various stages and angles against stunning landscapes such as ponds filled with lily pads or pine tree forests that offer unique photo opportunities not found elsewhere.
Ueno Park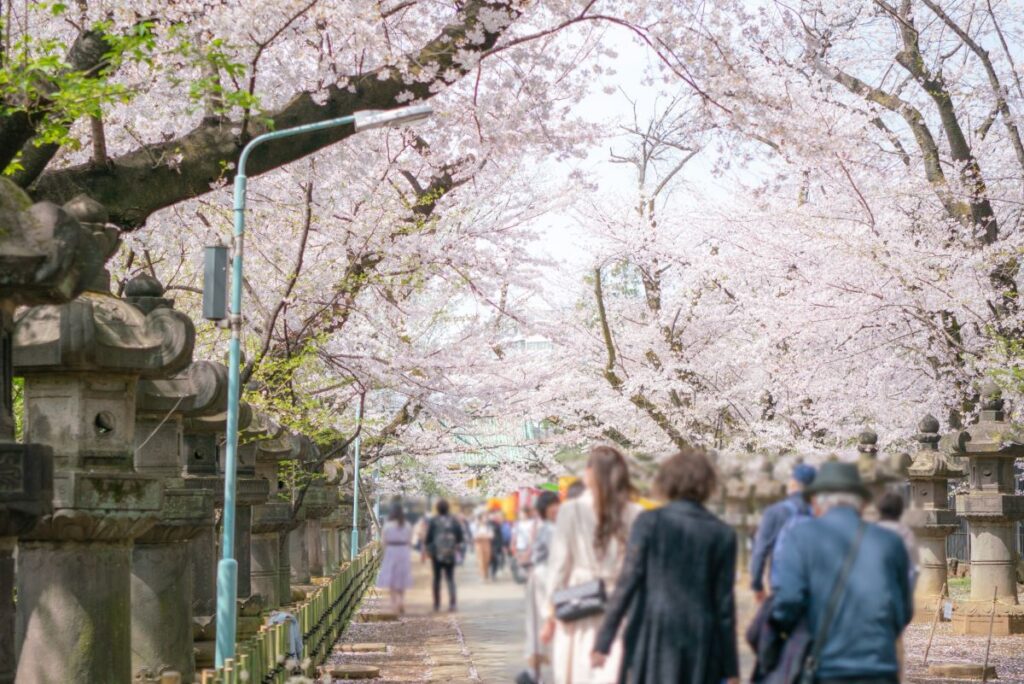 Ueno Park in Tokyo is a must-visit destination for cherry blossom enthusiasts. With over 1,000 cherry trees of various varieties and colors dispersed throughout the park, it's no wonder why people flock to this spot year after year. The vast space allows visitors to find their perfect viewing point without feeling crowded or rushed. Additionally, the illuminations at night provide a surreal experience that can't be missed – imagine strolling through pink-lit paths with falling petals all around you. Ueno Park definitely deserves its reputation as one of Tokyo's top spots for sakura season.
Shinjuku Gyoen National Garden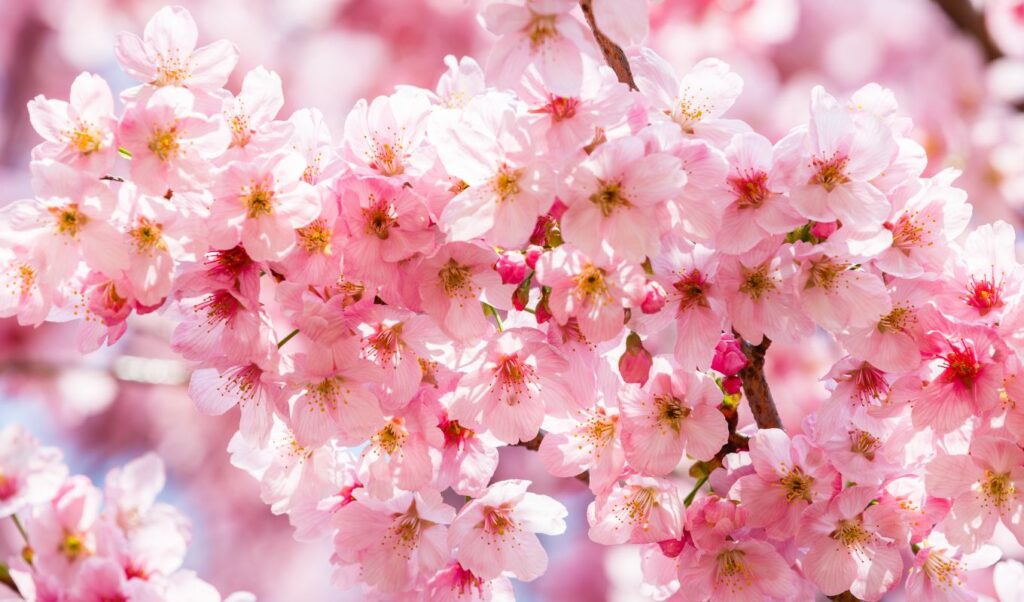 Cherry blossom season is a magical time in Tokyo, with the city bursting into shades of pink and white. One of the best places to experience this spectacle is at Shinjuku Gyoen National Garden. This expansive garden boasts over 1,000 cherry trees of various varieties, which bloom at different times throughout spring from late March to early May. With its tranquil ponds and landscaped gardens dotted with blooming sakura flowers, it's no wonder why locals flock here for hanami (flower viewing) picnics amidst stunning scenery. Be sure to arrive early on peak days as crowds can get quite busy.
Rikugien Garden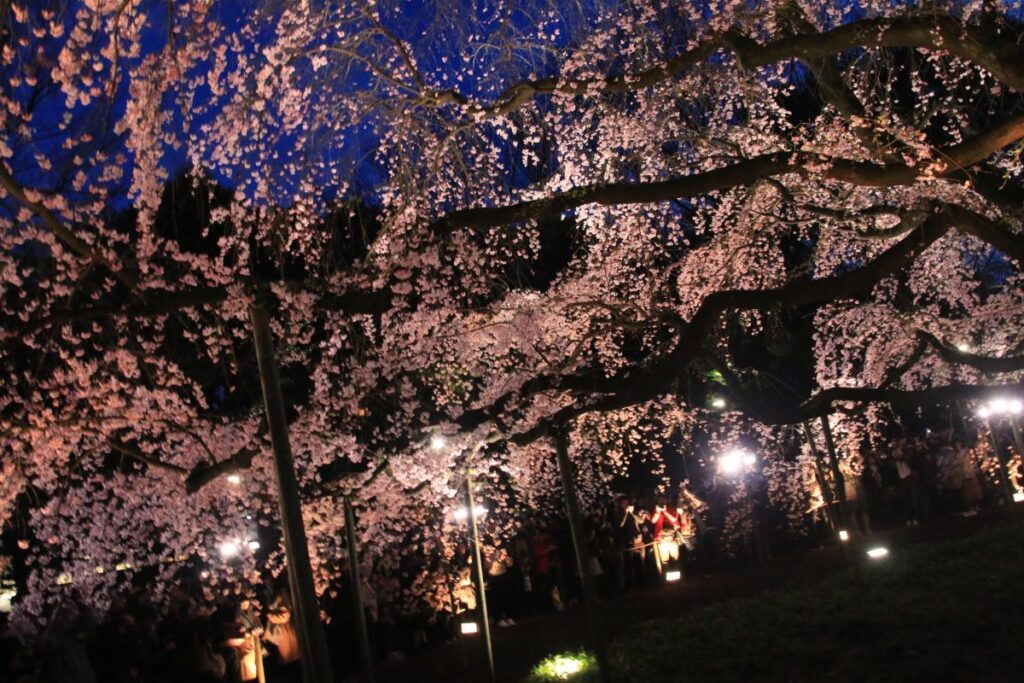 Rikugien Garden in Tokyo is a must-visit destination during cherry blossom season. The garden boasts over 400 cherry trees, including rare and ancient varieties of the blooming plant species. Visitors can enjoy seeing the delicate pink blossoms against a picturesque backdrop of ponds, bridges and winding paths through lush greenscape areas.
In addition to its natural beauty, Rikugien offers various events such as traditional tea ceremonies held under illuminated cherry trees at nightfall which add an extra touch of charm to your visit. Be sure not to miss out on one-of-a-kind experiences while enjoying this breathtaking view from all angles – it's sure you'll never forget it.
Imperial Palace East Gardens
The Imperial Palace East Gardens in Tokyo is undoubtedly one of the best places to witness cherry blossom season. The gardens are home to over 300 cherry trees, including some rare varieties that can only be found here. Visitors can stroll through peaceful paths and take in breathtaking views of pink petals against a majestic backdrop of ancient walls and towers. And with free admission, it's no wonder why crowds flock here every year for hanami (flower viewing) under the delicate sakura blossoms – truly an unforgettable experience.
Inokashira Park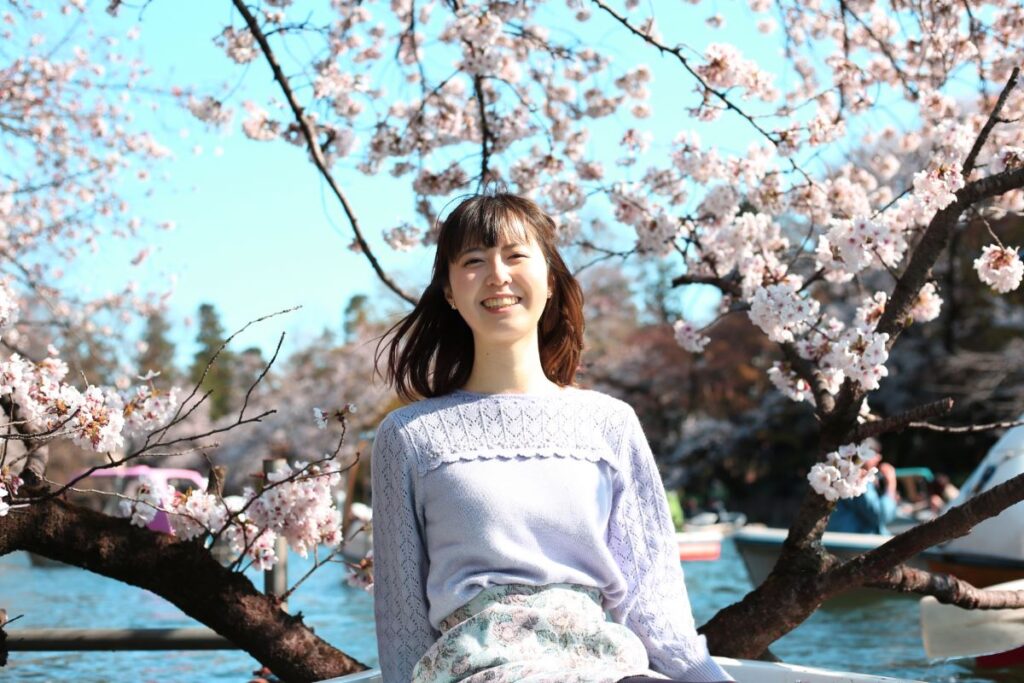 Inokashira Park in Tokyo is a must-visit for cherry blossom lovers. As the park features over 2000 sakura trees, visitors can enjoy a breathtaking sea of pink blossoms surrounding Inokashira Pond.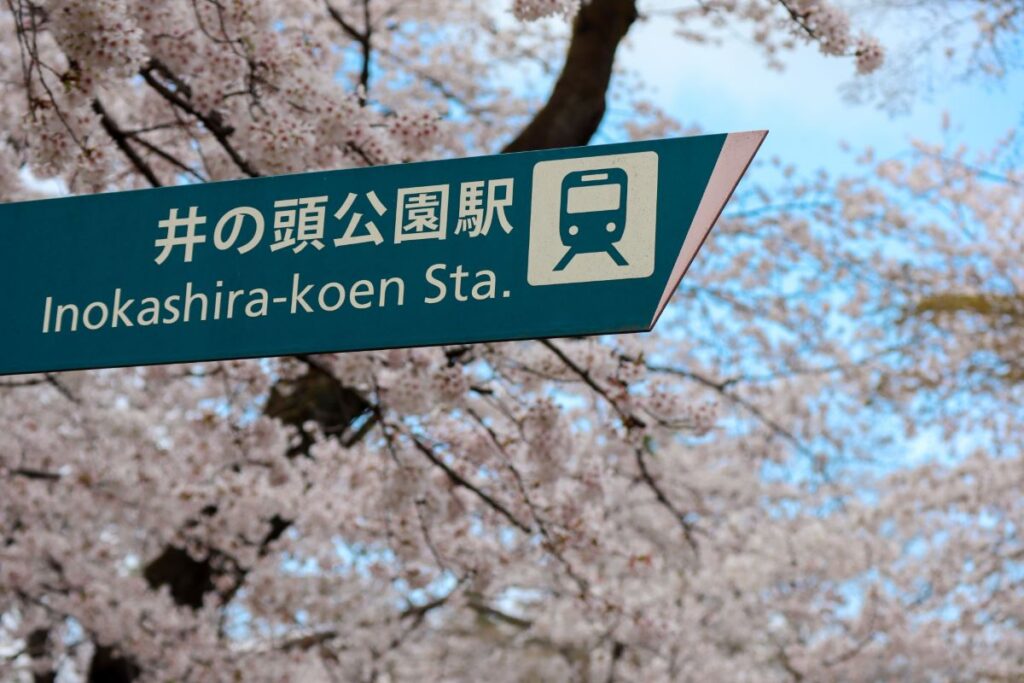 Moreover, there are also several small shrines and temples dotted around the park where you can appreciate iconic Japanese architecture combined with nature at its best. Visit during early April when locals gather to celebrate Hanami (cherry blossom viewing) by having picnics under the trees or renting rowboats on the pond – it's an experience not to be missed.
Sumida Park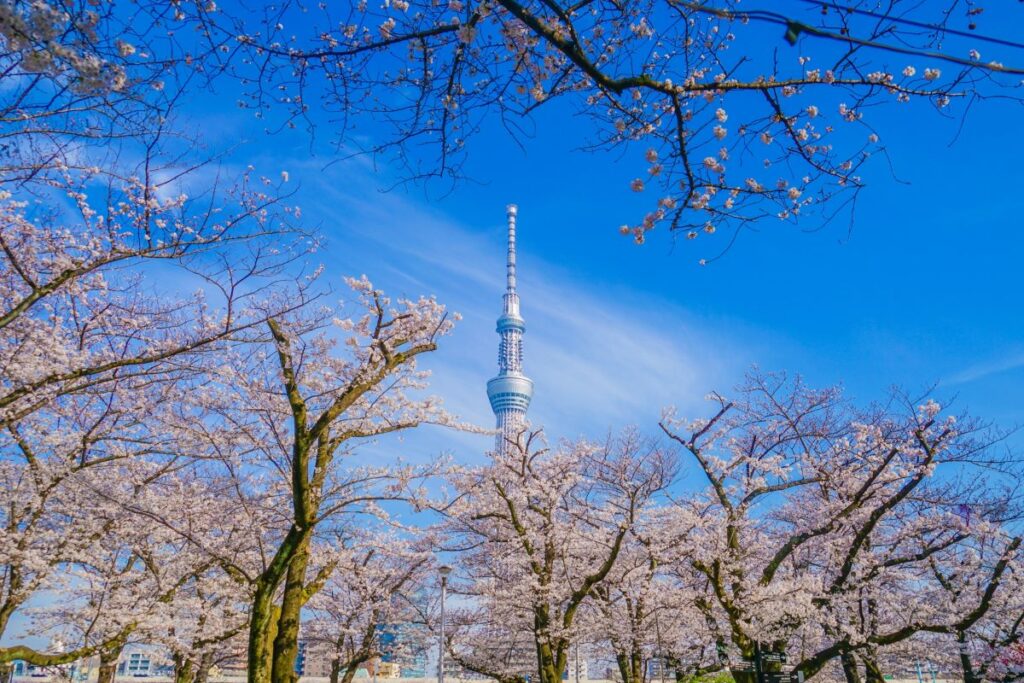 Sumida Park in Tokyo is a must-visit destination for cherry blossom lovers. The park boasts over 1,000 sakura trees that line the Sumida River and provide breathtaking views of pale pink petals cascading down to the water's edge. For an unforgettable experience, take a traditional Japanese boat ride along the river while enjoying hanami (flower viewing) with friends or family. Additionally, catch sight of illuminated night-time blossoms at this popular spot during spring season.
Koishikawa Korakuen Garden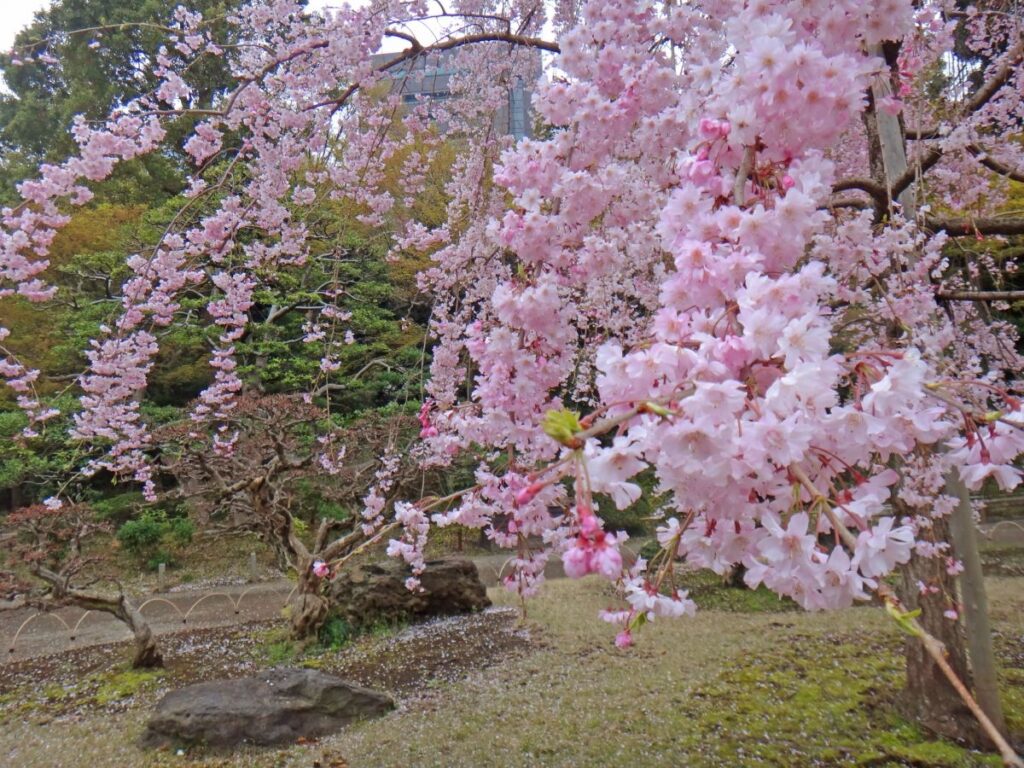 Koishikawa Korakuen Garden in Tokyo is a must-visit spot during cherry blossom season. Here, visitors can marvel at the delicate pink petals against the backdrop of traditional Japanese architecture and serene ponds. One unique feature of this garden is how it blends elements from various regions in Japan including miniature reproductions of famous landscapes such as Mt Fuji and Tsutenkyo bridge over Koi pond which creates an ideal environment for capturing stunning photographs with sakura trees making for a perfect photo op on Instagram. Don't miss out on experiencing one of best spots to view Cherry Blossom in Tokyo.
Chidorigafuchi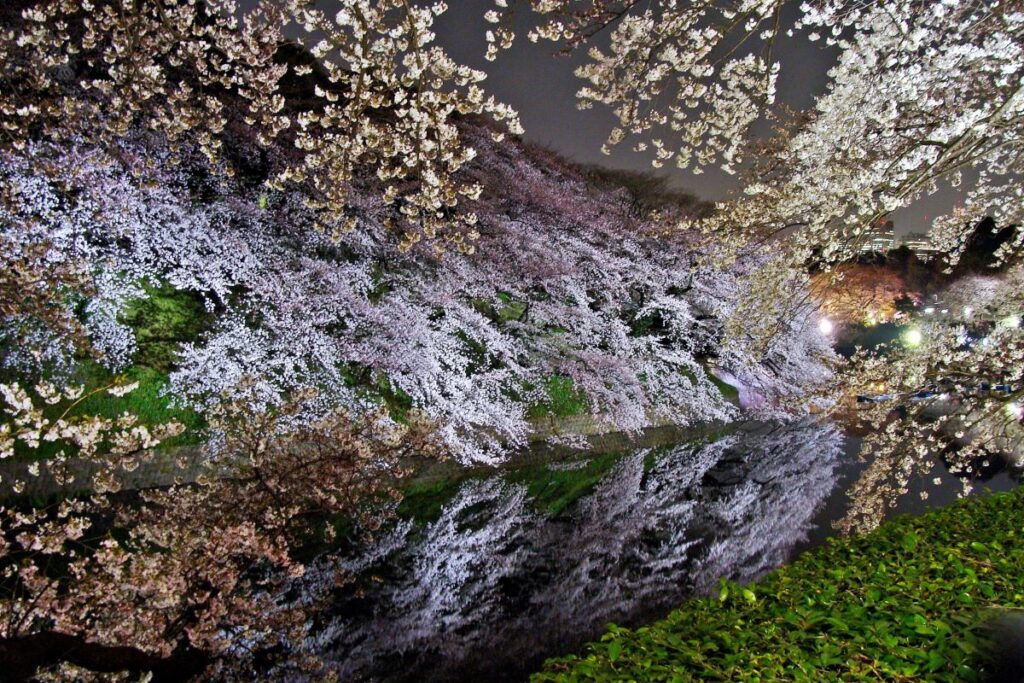 Cherry Blossom at Chidorigafuchi in Tokyo is a must-visit spot during springtime. The scenic beauty of the trees, along with the reflection on the moat, creates an unparalleled view that can only be described as breathtaking. Visitors can take a boat ride or simply stroll around and admire this pink spectacle while enjoying street food from nearby vendors. It's no wonder why Cherry Blossom at Chidorigafuchi consistently tops lists for best places to see cherry blossom in Tokyo.
Asukayama Park
As the cherry blossom fever sweeps through Tokyo, there's no better place to catch a glimpse of these stunning pink blooms than at Asukayama Park. Located in Kita-ku, this serene park is renowned for its picturesque scenery and tranquil atmosphere during sakura season.
With over 600 cherry trees scattered throughout the park grounds, visitors can take leisurely strolls along winding paths or relax on benches under blooming branches. In addition to traditional hanami views by day, nighttime illuminations offer spectacular sights worth staying up late for.
Whether you're an avid photographer seeking postcard-worthy shots or simply looking to soak up some Japanese culture amidst nature's beauty – Asukayama won't disappoint.
Sum up
In conclusion, Tokyo is an absolute paradise for cherry blossom lovers. With its innumerable parks and gardens filled with pink blossoms that only last a few fleeting weeks each year, the city truly comes alive during hanami season. From Ueno Park to Shinjuku Gyoen National Garden, these locations offer breathtaking views of sakura trees draped in delicate flowers as they sway gently in the breeze.
But beyond just being visually stunning, Japan's national flower holds deep cultural significance – symbolizing renewal and new beginnings while reminding us all of life's ephemeral beauty. So why not experience this awe-inspiring sight first-hand? Plan your trip around late March or early April to join locals under blooming branches where you can picnic on delicious snacks beneath this natural spectacle.
It's no wonder visitors from all over the world flock here every spring; seeing Tokyo awash with pale pink hues will leave even jaded travelers feeling optimistic about what lies ahead.
"