Mount Fuji stands majestically in Japan as one of the most iconic landmarks and tourist attractions. Whether you are an adrenaline junky or a nature enthusiast, there is something for everyone to enjoy around this breathtaking mountain
Some of the best things to do in the Mt Fuji area are Oshino Hakkai with crystal clear spring water surrounded by eight ponds, Chureito Pagoda where visitors enjoy the most iconic view of Fuji, Lake Kawaguchi–ko offering more stunning views of Mount Fuji from its bankside parks and trails.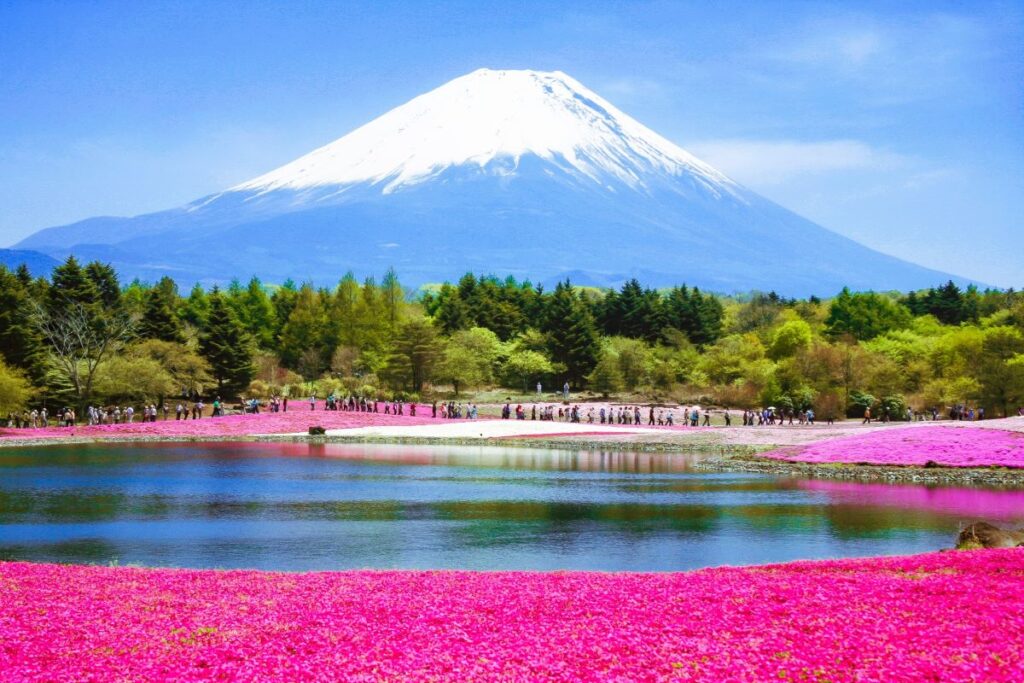 There's also the Mt. Fuji Panoramic Ropeway where you can take unforgettable aerial shots, beautiful landscapes filled with blossoming flowers at the sprawling fields known as 'Fuji Shibazakura', thrilling roller coasters, and amusement rides at Fuji–Q Highland.
For shopaholics, Gotemba Premium Outlets offer great bargains when it comes to fashion brands while braver souls may opt for challenging hikes leading them toward Aokigahara Forest which was once used for macabre rituals before exploring the nearby magical Narusawa Ice Caves found deep within frozen chambers.
That's just a few of the fun and interesting things to do in the mount fuji Area.
The Chureito Pagoda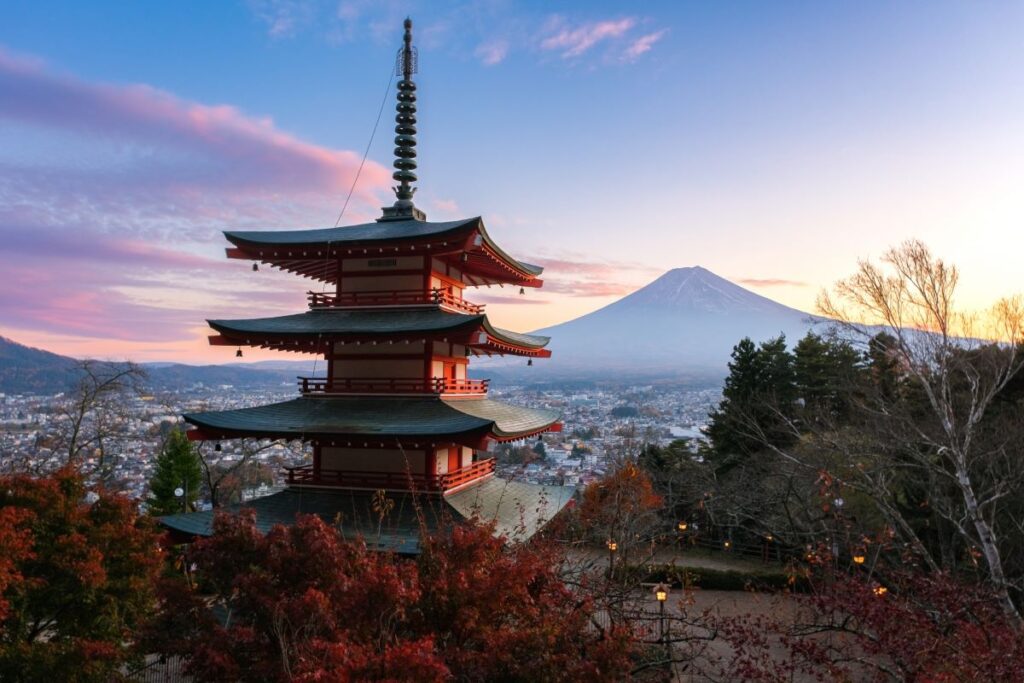 The Chureito Pagoda is a beautiful pagoda located in Fujiyoshida, Japan. It's said to offer one of the most breathtaking views of Mount Fuji and has become an iconic photo hotspot for travelers from around the world.
The five-story wooden structure was built way back in 1963 as a memorial dedicated to those who lost their lives during World War II on both sides – Allied forces included. Every April thousands gather here at sunrise or sunset when soft light illuminates Mt Fuju's peak wind chimes gently swaying in the breeze; it really does make for some special photographs!
Though many come just for photo shots there are also locals that visit this location constantly throughout the year, offering flowers and incense sticks lit up prayer flags lining its exterior walls– adding more beauty to already picturesque architecture.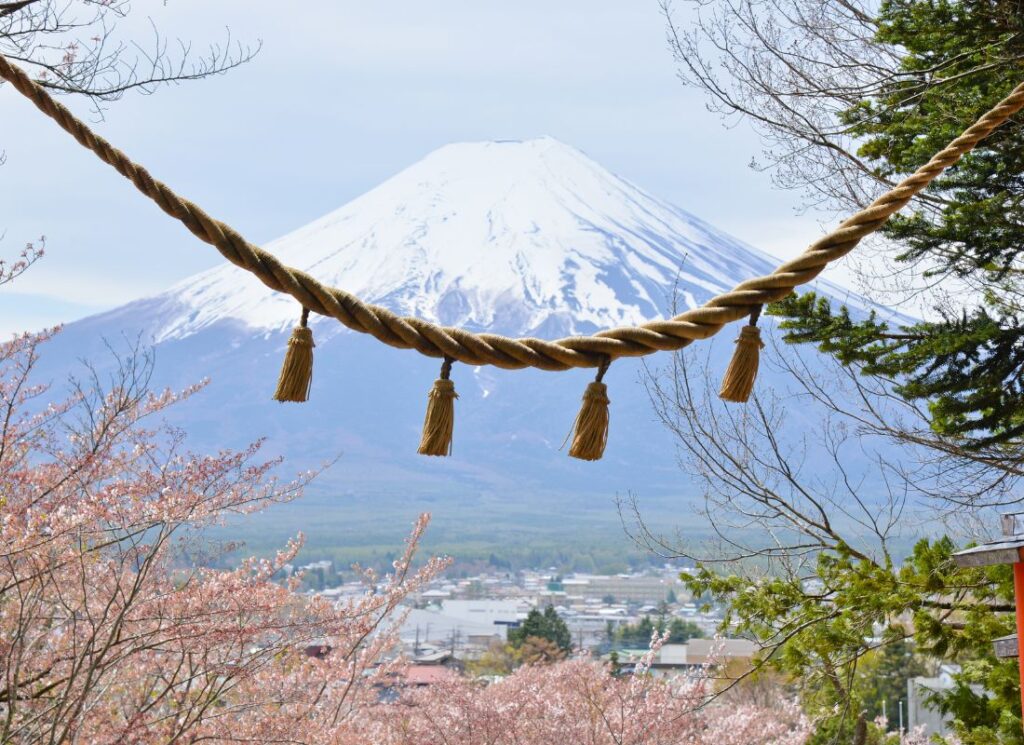 Visitors can take part too by writing wishes onto small cards provided near the entrance before tying them together with other wishing ribbons strung between bamboo poles.
Oshino Hakkai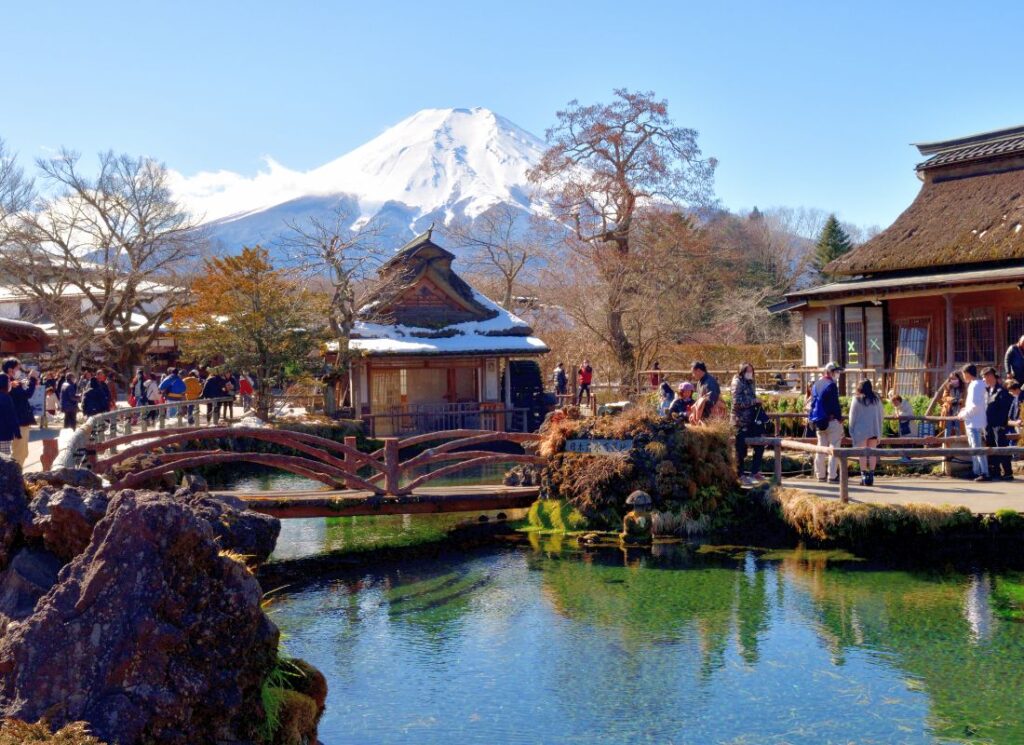 Oshino Hakkai is a wonderfully scenic spot near Mt.Fuji and the Aokigahara forest. It consists of serene ponds that are fed by crystal clear water from the mountainous region surrounding it, giving off an aura of tranquility and peace to its visitors.
One interesting thing about Oshino Hakkai is how each pond has its own unique characteristics; one contains beautiful lotus flowers while another holds mysterious carp fish which only come out during special occasions under certain lunar phases!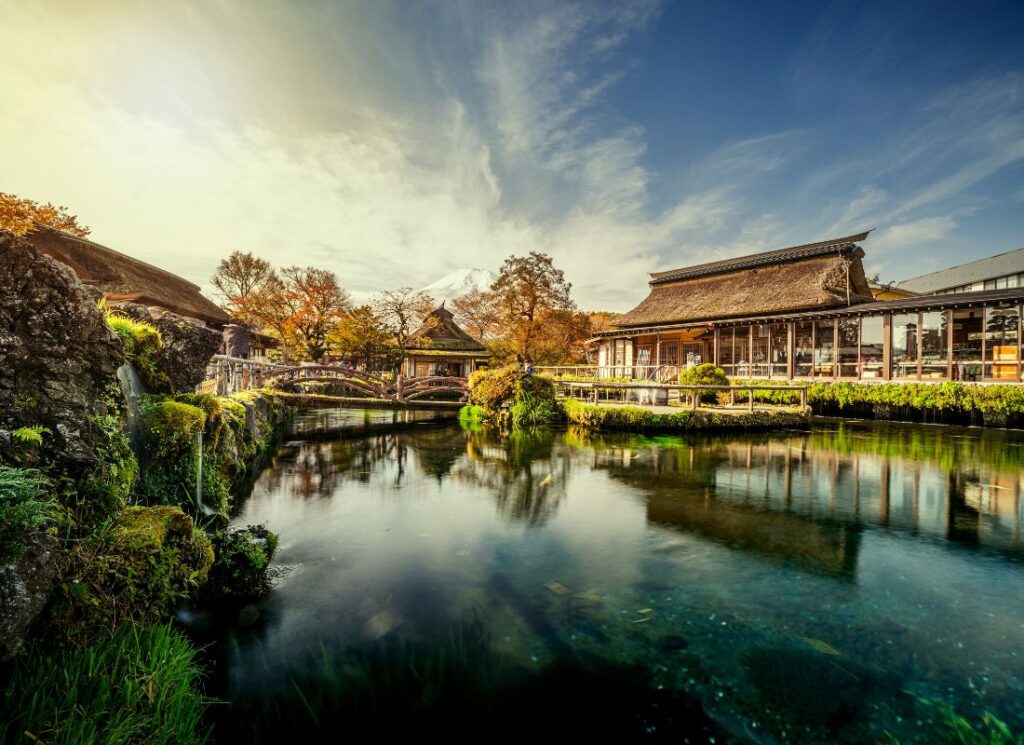 Visitors can also take boat rides around these ponds or explore their depths through glass-bottom kayaks available on-site for rental purposes.
The area's sheer beauty makes it perfect for photographers who seek to capture images with breathtaking splendor. And if you happen to be extra lucky, there's even a chance you might catch sight of wild Japanese macaques bathing themselves at one end of this gorgeous lake scenery as well.
The Mt. Fuji Panoramic Ropeway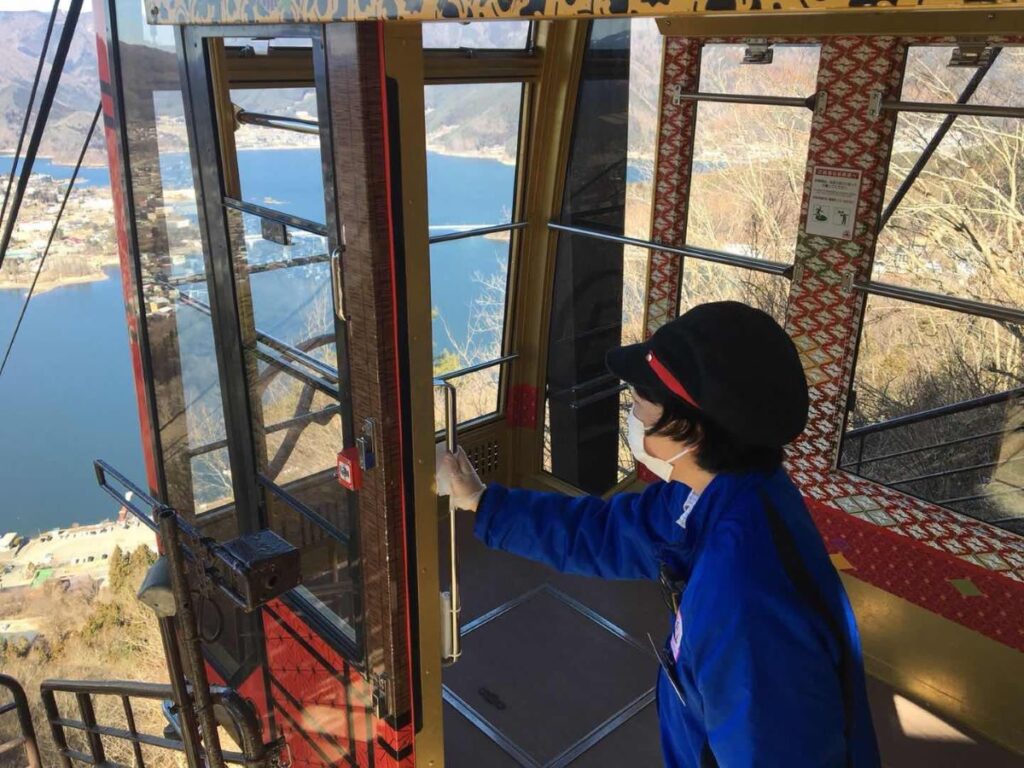 The Mt. Fuji Panoramic Ropeway is an experience that truly must be seen to be believed – it's the perfect way for someone who wants to take in the breathtaking scenery from a unique and unforgettable vantage point.
From up here, even with modern Tokyo just beyond reach – it feels like entering another world where everything revolves around Mount Fuji's sacred presence. Something so grandly divine that its beauty takes away any words we might use to describe it adequately enough.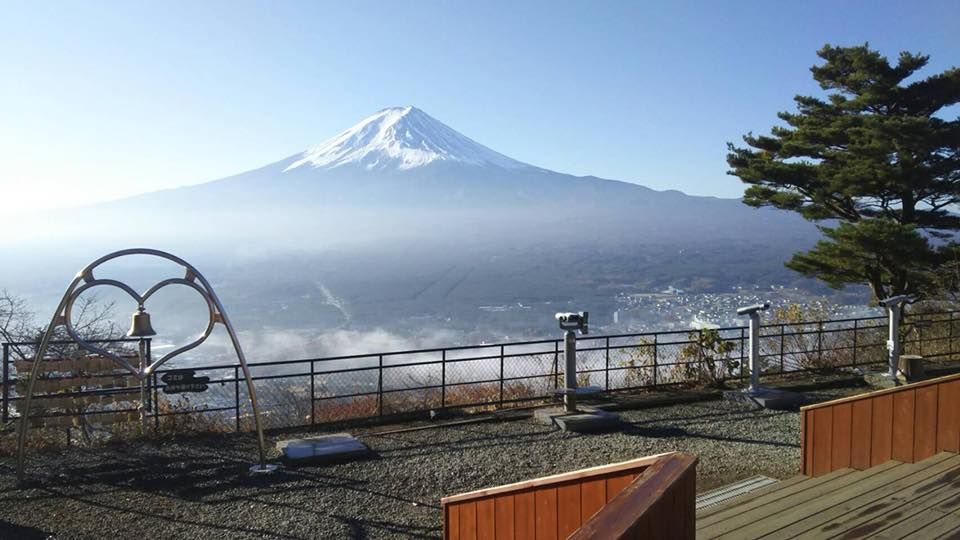 The sky turns pinkish-purple at sunset while during the daytime snow-capped peaks glisten against a clear blue backdrop.
At certain points along this 4km ride, there are lookout platforms that provide additional chances to marvel at incredible sights such as the majestic Aokigahara forest below or the Misaka Mountain range far off in distance towards the North.
Lake Kawaguchi-ko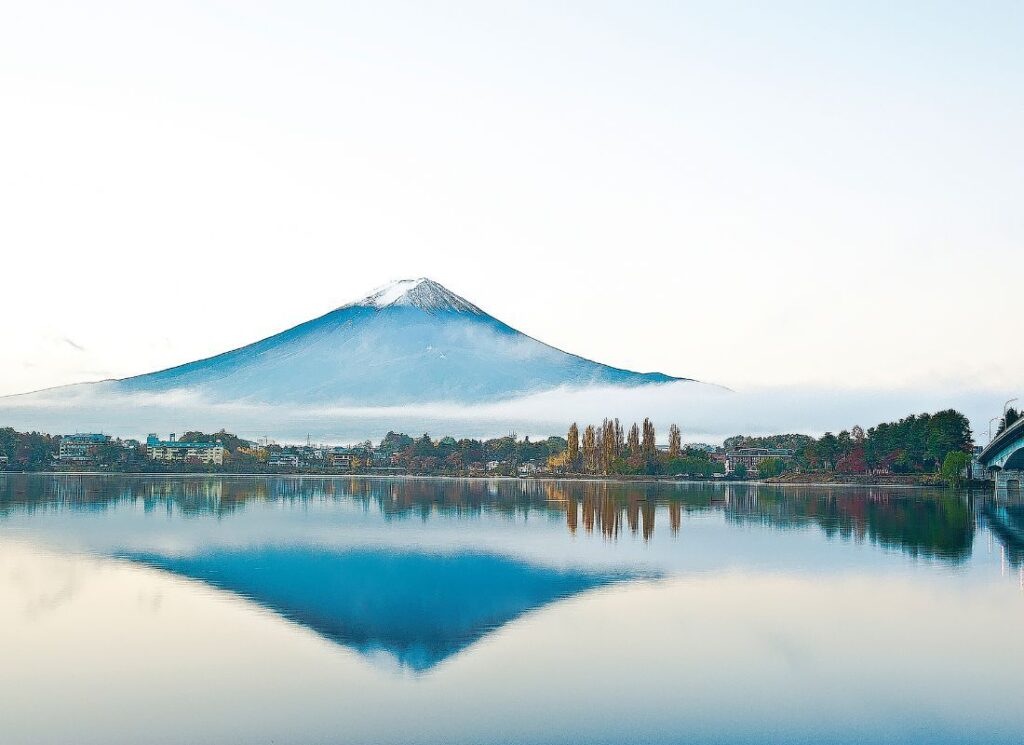 Soaring high above the gorgeous waters of Lake Kawaguchi-ko sits Mount Fuji, Japan's iconic symbol. This grand lake is one that commands your attention with its stunning beauty and mesmerizing tranquility.
Located in Yamanashi prefecture at an elevation of 754 meters (2,474 feet), this remarkable body of water has won many hearts since long ago. It was once a popular spot for poets seeking to capture its sublime atmosphere through their writings.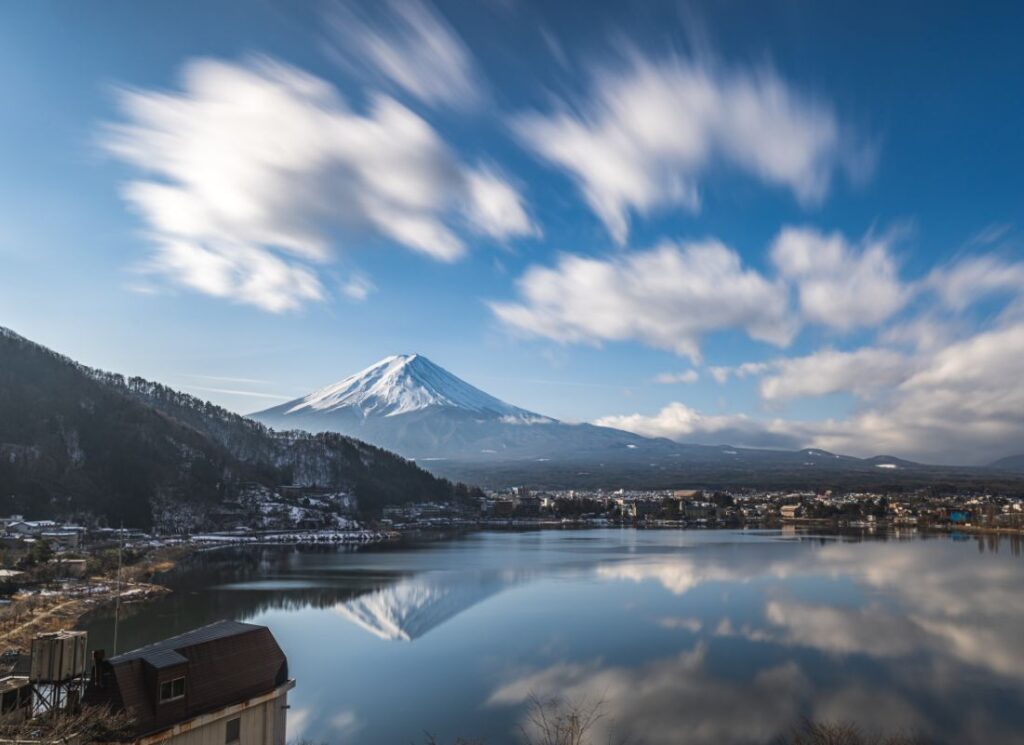 One such notable work written about it is Otomo no Yakamochi's Koshikakemura poem, which famously describes the mountain backdrop framing "the colorless waves" lapping against either side like a painting on silk cloth.
Away from these poetic musings though lies another reason why visitors flock here and that's to enjoy it's many great views of mount fuji wich looks majestical reflecting in the lakes waters.
Aokigahara Forest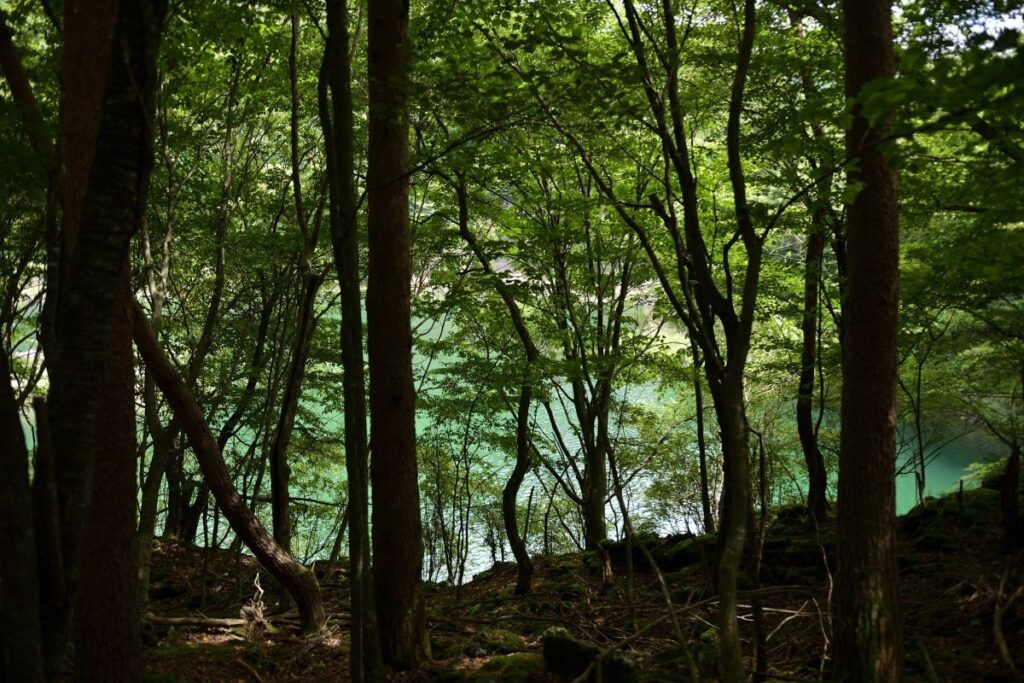 Aokigahara Forest, located at the Northeastern base of Mt. Fuji is a place shrouded in mystery and legend due to its unique features. Often referred to as "The Sea of Trees", the dense vegetation creates an eerily silent atmosphere with very few local animals and creatures making it their home.
It is said that some visitors become lost but never found again after entering this magical forest, while others are known to have left behind messages written on paper or cloth which can be seen poking out from between tree trunks even today!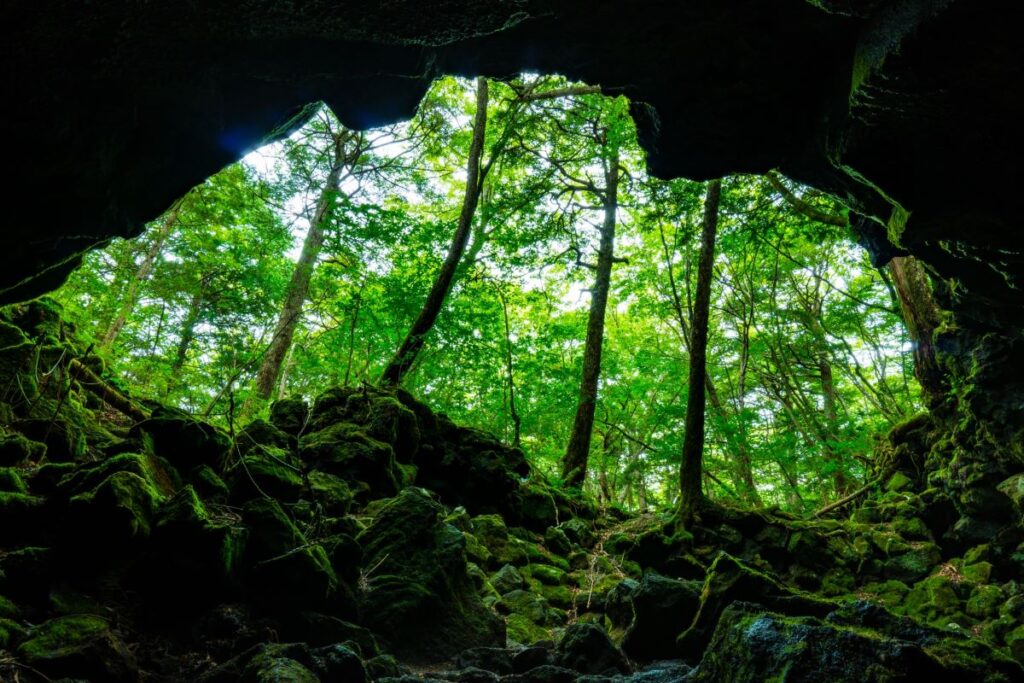 Some people believe there's something special about Aokigahara Forest that amplifies positive energy within the woods creating a good fortune for those who visit – although others feel just the opposite effect.
The Narusawa Ice Caves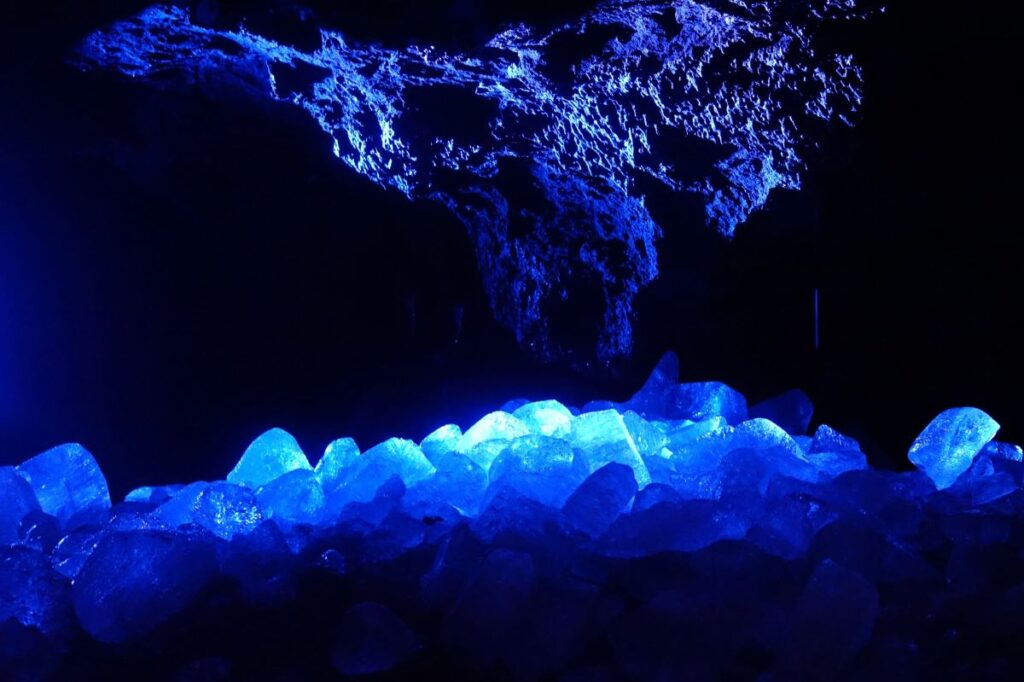 The Narusawa Ice Caves, not far from Aokigahara are a network of breathtaking frozen caverns. These natural phenomena were formed over thousands of years and serve as home to some unusual species such as the Japanese Cave Centipede and Glowworm Trichocera Wormlighi.
The ice caves contain remarkable formations, from stalactites to rarely frozen streams that look like liquid gold dripping from above.
Visitors can explore this icy wonderland alone or by joining guided tours several hundred meters deep into its depths where you will be mesmerized by glistening walls decorated with intricate patterns created by naturally occurring minerals within them. This is truly an extraordinary experience.
The Fifth Station of Mount Fuji
Mount Fuji is a sacred symbol of Japan, and its 5th station is the perfect place to experience it. Located at an altitude of 2,305 meters (7,600 feet), this enchanting spot offers breathtaking views over glistening lakes and lush forested mountainsides. The fifth station also marks the beginning point for most climbers as they ascend toward their ultimate goal—the summit!
From here you can enjoy delicious food from local vendors or relax in one of the many nearby hot springs after your journey up the mountain.
It's definitely worth sightseeing around before setting off on your grand adventure – consider yourself lucky if you're able to catch a glimpse of sunrise illuminating from Fujisan's peak during the summer season too.
Fuji-Q Highland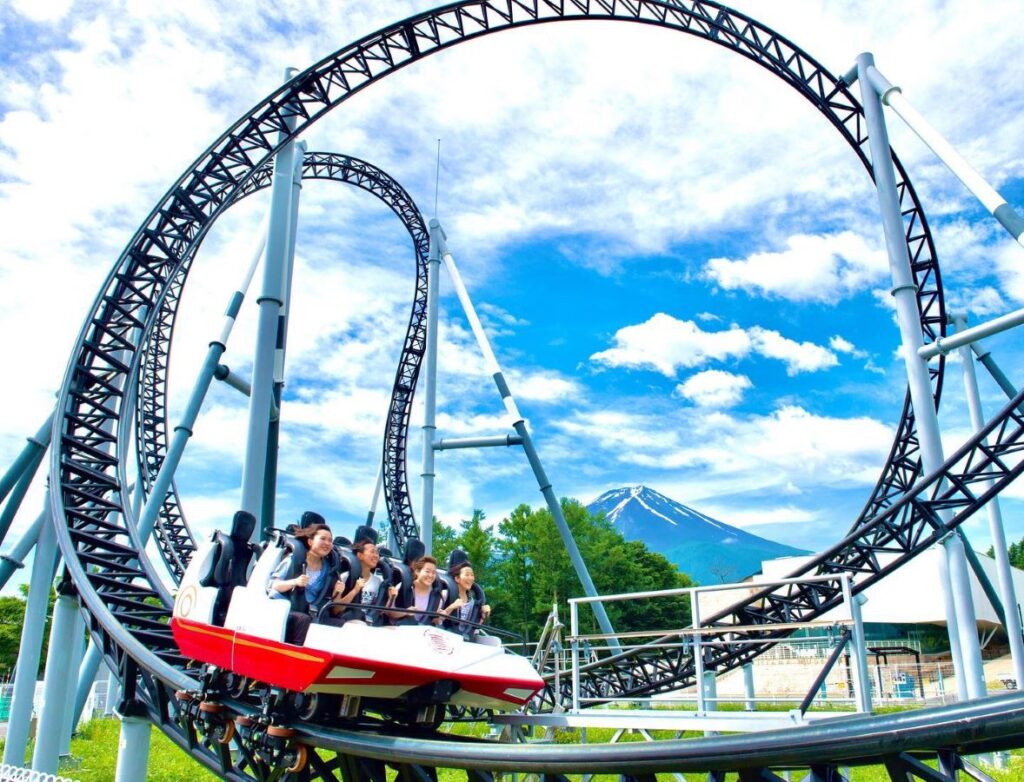 Fuji-Q Highland is a unique amusement park located at the foot of Mount Fuji that has some of the world's most thrilling rides and attractions that are sure to entertain families, couples, and thrill-seekers alike.
From exciting roller coasters such as Dodonpa – said to be one Of The Fastest Roller Coaster In The World reaching speeds up To 172 km/h, to calmer experiences like Thomas Land where young children can explore their favorite characters from classic stories.
Not only does it boast exhilarating fun but also many captivating attractions including an aquarium, haunted house, and 'Eejanaika' which allows visitors to experience 4D virtual reality simulations with special effects such as fire or mist spraying around you while you fly through dreamlike worlds.
With so much variety on offer, your biggest problem will be fitting it all into a single day.
Oishi Park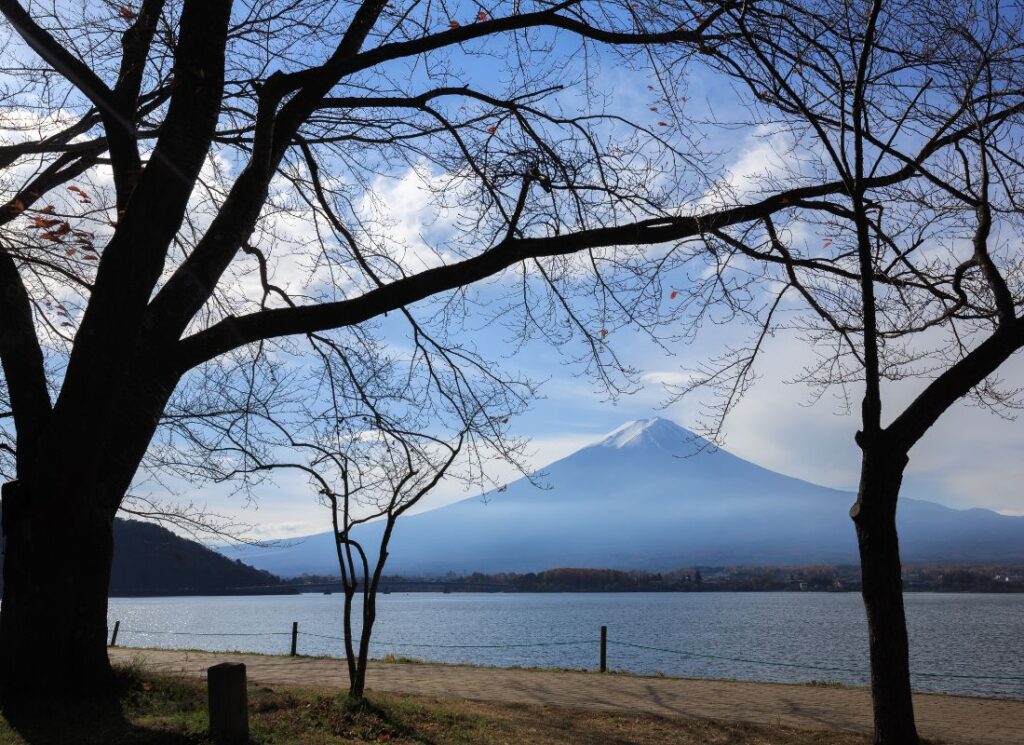 Oishi Park is a spectacular outdoor paradise that features stunning scenery including rolling meadows and an abundance of colorful flora and fauna. The park's trails are lined with cherry blossom trees that provide beautiful views from season to season as well as picturesque vistas overlooking the iconic mountain range in all its glory.
Visitors can explore numerous recreational activities such as hiking, boating, camping or simply soaking up some sun on one of the many relaxing lakeside beaches.
Gotemba Premium Outlets
Gotemba Premium Outlets is one of the largest shopping destinations in Japan. It boasts 220 shops carrying international and domestic luxury brands such as Gucci, Prada, and Burberry. The outlet staff are friendly and offer plenty of advice on finding good deals for quality items.
With its stunning views of Mt Fuji from a distance it makes an ideal day trip destination or even a weekend getaway from Tokyo city life!
Shopping fanatics can enjoy great discounts up to 50%-80% off original retail prices all year round with additional savings during their special seasonal sales events offering further reductions on already discounted products- making these outlets irresistible for bargain-hunting shoppers!
Shiraito Falls: Jewel of Fujinomiya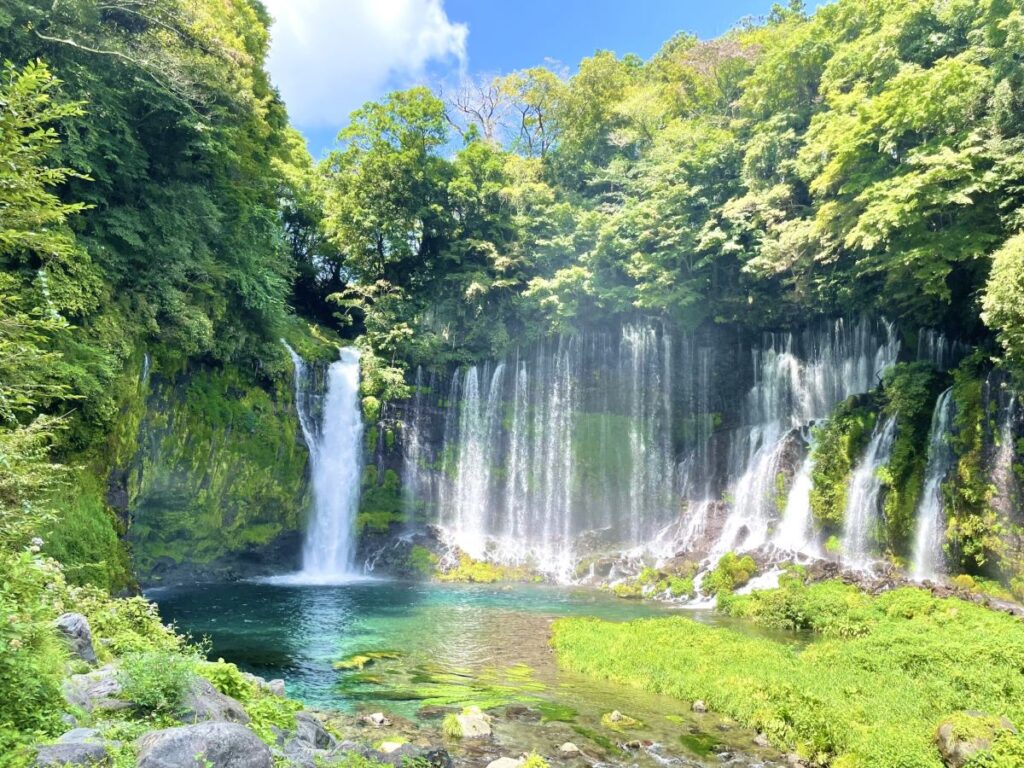 In the rural city of Fujinomiya, Japan lies a beautiful jewel – Shiraito Falls.
Shrouded by lush vegetation and jagged cliffs that surround Mount Fuji, this natural gem is truly something to behold. Fed from an underground spring beneath the mountain's rock walls, these stunning falls contain hundreds of white threads like silk cascading over 30 meters in length.
On clear days visitors can witness breathtaking rainbows shimmering across its luminescent surface while listening to babbling brooks below its feet.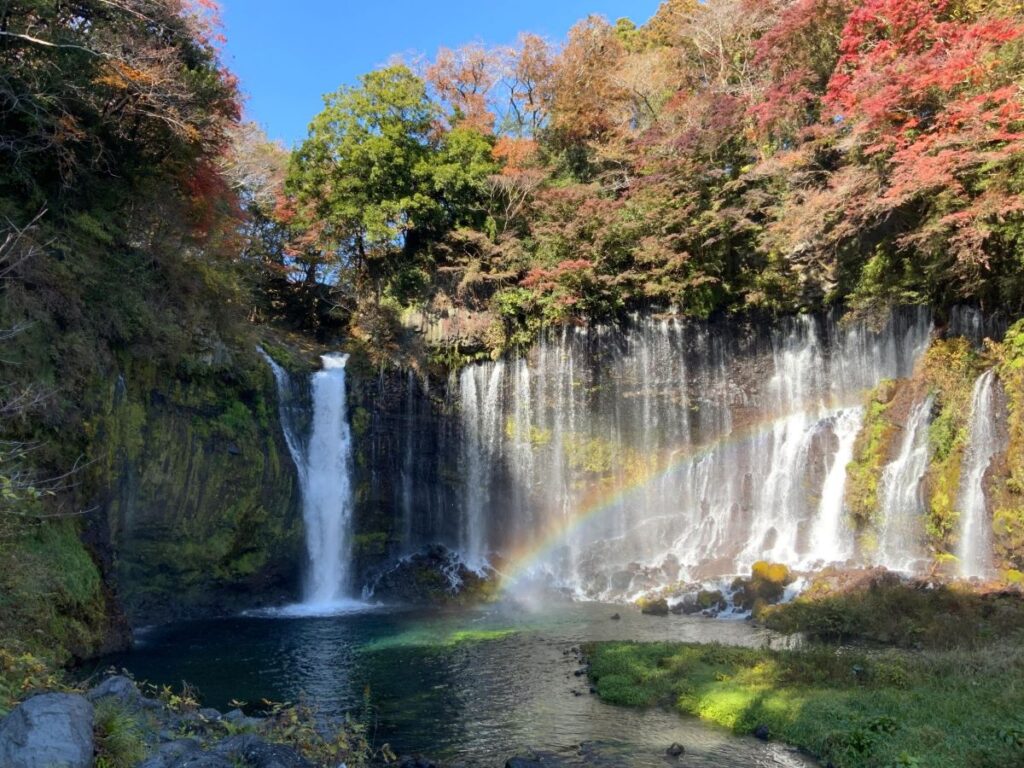 With many scenic trails nearby perfect for nature walks or picnics, there are also numerous historical sites highlighting local culture available close by as well such as Fujisan Hongu Sengen Taisha Shrine and Saiko Bat Cave making it a great place for exploration too.
Climbing to the Summit of Mount Fuji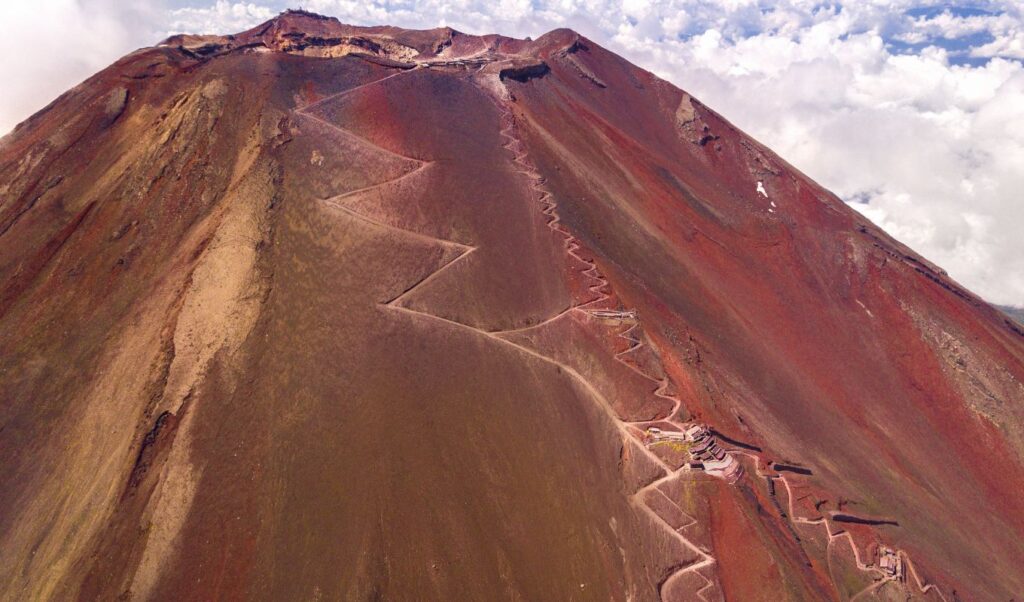 Scaling Japan's most sacred mountain, Mount Fuji is an experience that will stay with you for a lifetime. At 3776 meters tall and renowned as an active volcano, climbing all the way up to its summit requires preparation, determination, and courage. It's commonly climbed during the summer months between July-September and you can climb on your own or as part of a guided group.
To make your ascent possible there are four trails leading up from various points around Mt Fuji's base so finding one suitable for you shouldn't be too difficult.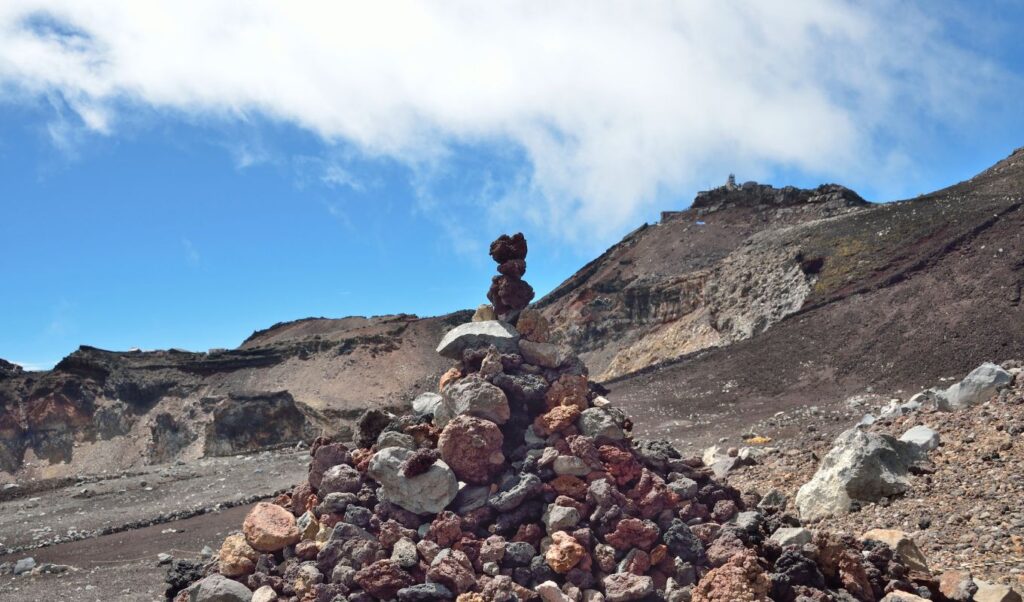 Yoshida trail is popular among first-timers due to its wide access routes along well-maintained pathways lined with shrines offering spiritual acknowledgment to climbers before reaching the peak!
Once arrived above the clouds there awaits another spectacular journey downhill you can finally recognize why this wonder remains entranced within many hearts.
How Long To Stay In the Fuji Kawaguchi Area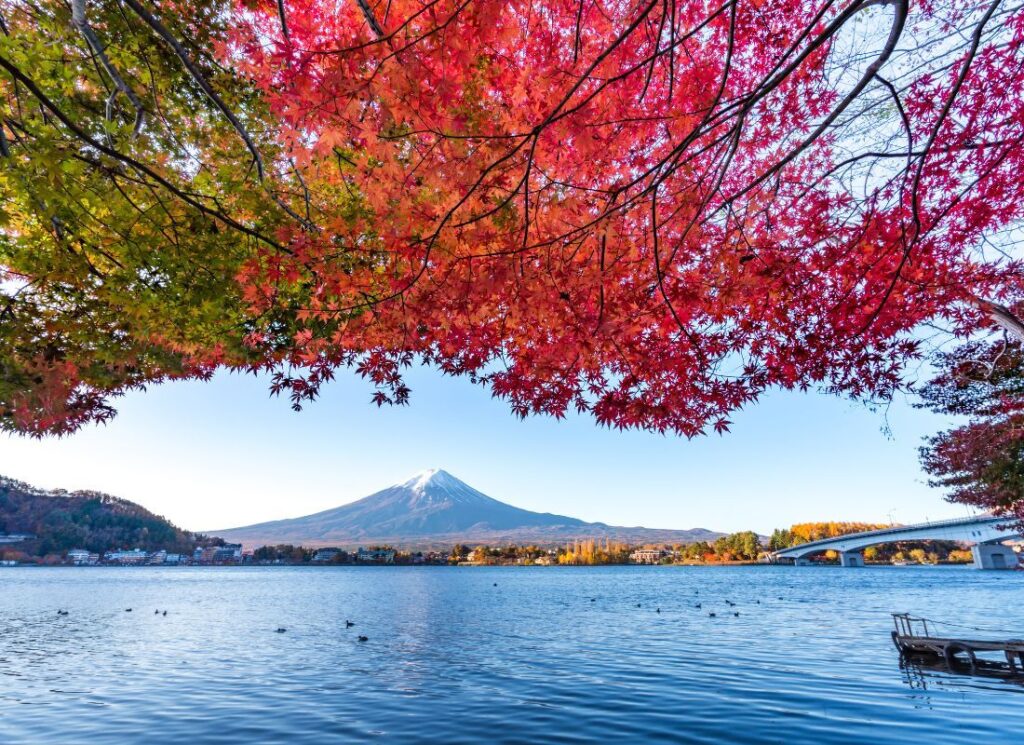 Mount Fuji's Kawaguchiko area is a popular destination for tourists who want to experience the beauty of Japan. It is located near Tokyo and offers breathtaking views over Lake Kawaguchi as well as many outdoor activities all year round, making it an ideal spot for both short and long stays.
While you can certainly have a wonderful day trip to the mount fuji area, as we have seen there are so many things to do and see that you could easily spend days here without getting bored.